Three Rocket teams honored for perfect academic scores
---
Three University of Toledo sports — women's golf, men's tennis and women's tennis — were honored by the NCAA for ranking in the top 10 percent of their sport in the Academic Progress Rate (APR).
All three sports received perfect scores of 1,000 for the four-year period from 2014-15 to 2017-18.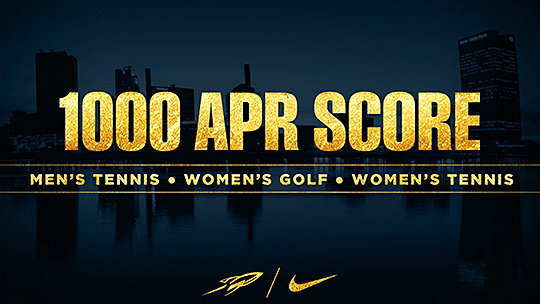 "We would like to congratulate our three sports that earned perfect APR scores over the past four years," said UToledo Vice President and Athletic Director Mike O'Brien. "That is a tremendous accomplishment that speaks to the consistent level of academic excellence that we have come to expect from our student-athletes."
APR is a gauge of every team's academic performance at a given point in time. Points are awarded on a semester-by-semester basis for eligibility, retention and graduation of scholarship student-athletes. 1,000 is considered a perfect score. Sports that fail to reach the cut point (930) can be penalized with the loss of scholarships, practice restrictions and post-season bans.
APR scores for all sports will be released by the NCAA Wednesday, May 8.
Click to access the login or register cheese