Northwest Ohio Hearing Clinic slates events
---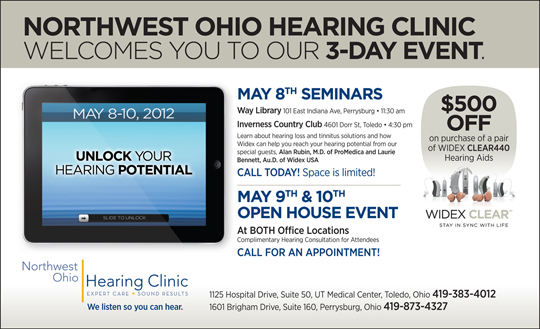 The Northwest Ohio Hearing Clinic will hold two educational events and an open house.
On Tuesday, May 8, the public is invited to learn about hearing loss and tinnitus solutions at 11:30 a.m. at Way Public Library, 101 E. Indiana Ave., Perrysburg, and at 4:30 p.m. at the Inverness Club, 4601 Dorr St.
The clinic also will hold an open house Wednesday and Thursday, May 9 and 10, from 9 a.m. to 4 p.m. Complimentary hearing screenings will be available, and you can learn more about the Widex Clear 440 hearing aids.
Those planning to attend the open house are encouraged to call the clinic at 419.383.4012 for an appointment.
The Northwest Ohio Hearing Clinic is located in Dowling Hall Room 50 on UT's Health Science Campus.
Click to access the login or register cheese