Regional Energy Industry Forum to be held May 16-17 on Scott Park Campus
---
The ever-changing needs of the energy industry, including the role of wind and solar power in northwest Ohio, fossil fuels in the area, and the need to diversify energy sources, will be discussed at the Regional Energy Industry Forum this week at The University of Toledo.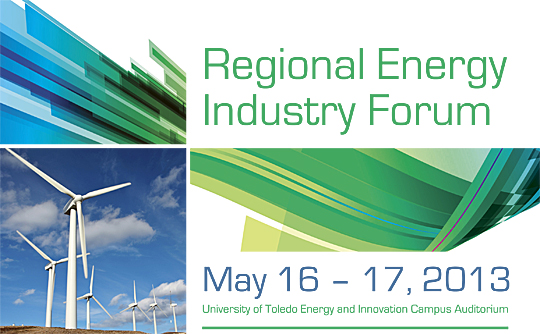 The forum will take place Thursday, May 16, from 7:30 a.m. to 7 p.m. and Friday, May 17, from 7 a.m. to 12:30 p.m. in the Scott Park Campus Auditorium and will focus on Toledo's unique role in the Midwest energy sector. Lunch will be provided, and a reception will be held Thursday from 5 to 7 p.m.
"More than 60 percent of the work force in the energy sector is retiring within the next five years," said Karl Parker, president and CEO of Parker Family of Businesses, a professional services firm offering business strategy and consulting. "We want to educate the community about the emerging energy landscape."
The changing energy industry ultimately will lead to job opportunities in the region, Parker added.
The UT Scott Park Campus of Energy and Innovation, which features a 1.12-megawatt solar array, 100-foot wind turbine and electric car charging station, is perfectly suited for such a forum because it is at the forefront of energy diversification and a hub for energy innovation, Parker said.
The event will include presentations from members of the American Petroleum Institute, American Gas Association and the American Association of Blacks in Energy.
The Regional Energy Industry Forum is sponsored by Parker Energy Solutions, The University of Toledo Minority Business Development Center, the Toledo-Lucas County Port Authority and the Toledo African American Chamber of Commerce.
General admission to the public forum is $25, $10 for students and $10 for the live webcast.
Register at regionalenergyforum.eventbrite.com.