Free wellness seminar offers nutrition advice to cancer patients
---
Good nutrition is an important weapon in the fight against cancer. Eating right can help patients feel better and stay stronger during cancer care, but treatments can often cause nausea and reduce a patient's appetite.
"Each patient's experience with chemotherapy and other cancer treatments is different," said Jodi McClain, a nurse practitioner at The University of Toledo Eleanor N. Dana Cancer Center, who organized the event. "It is our goal to help our patients maintain a balanced diet and healthy lifestyle to support their immune system and boost their energy levels."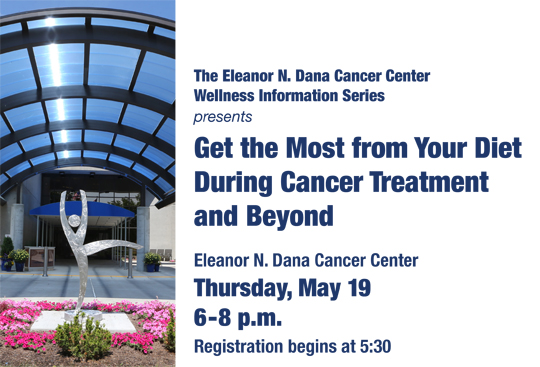 Cancer patients are invited to learn about the benefits of proper nutrition and view a cooking demonstration of meals designed just for them at a free wellness seminar called Get the Most From Your Diet During Cancer Treatment and Beyond Thursday, May 19, at 6 p.m. at the Eleanor N. Dana Cancer Center on Health Science Campus. Registration will begin at 5:30 p.m.
The evening will include nutrition information from Kristi Mason, board-certified specialist in oncology nutrition for UT Health, and a cooking demonstration by Jake O'Leary, executive chef at Extra Virgin Catering Services.
"We will review what it means to follow a healthy diet and discuss ways that patients can maintain their calorie and nutrient intake during treatment," Mason said. "Many patients find they better tolerate small meals or a liquid diet, so we will focus on high-protein, nutrient-dense meals and smoothies."
The event is a part of the Eleanor N. Dana Cancer Center Wellness Information Series. Reservations are requested by calling 419.383.5243 by Tuesday, May 17.