Canaan topic of UT Center for Religious Understanding lecture
---
The University of Toledo's Center for Religious Understanding will host the 2018 Dr. Morton Goldberg Lecture titled "The Conquest of Canaan: Between Morality and Myth."
The event will take place Monday, May 21, at 7 p.m. in Libbey Hall on Main Campus and will be followed by a dessert reception.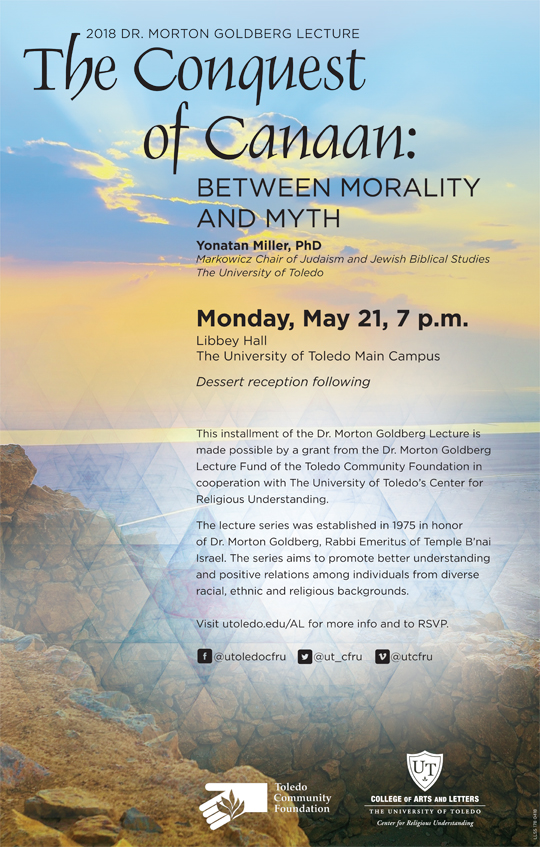 Since its establishment in 1975, this event has honored Dr. Morton Goldberg, rabbi emeritus of Temple B'nai Israel. It also serves as an opportunity for students and the Toledo community to acquire a better understanding of individuals who come from diverse racial, ethnic and religious backgrounds.
Dr. Yonatan Miller, Philip Markowicz Visiting Assistant Professor of Judaism and Jewish Biblical Studies, and director of the UT Center for Religious Understanding, will be the guest speaker.
"The lecture examines how both scholars and traditional readers of the Hebrew Bible approach the Israelite conquest of the Land of Canaan," Miller said. "I will be asking a series of questions about the conquest, touching on history, archaeology, literature and philosophy, and traversing over two millennia of writing and thought."
Miller received his PhD in Jewish studies from Harvard University in 2015 and held a postdoctoral appointment as a Harry Starr Fellow in Judaica at Harvard's Center for Jewish Studies. His work examines the interpretive reception of the Hebrew Bible among ancient Jewish writers, with a focus on the continuities, adaptations and appropriations of biblical motifs in classical Jewish literature.
The installment of the Dr. Morton Goldberg Lecture is made possible through a grant provided by the Dr. Morton Goldberg Lecture Fund of the Toledo Community Foundation in cooperation with The University of Toledo's Center for Religious Understanding and seeks to enhance the perspectives of those willing to learn more about religious backgrounds and diversity.
"I have long been intrigued by this topic and thanks to the Dr. Morton Goldberg Lecture Fund, I will be able to present my initial findings and continue my research over the summer," Miller said.
Although registration isn't required for the free, public lecture, it is requested by Tuesday, May 15. Email the Center for Religious Understanding at cfru@utoledo.edu or call 419.530.6190.