Rocket baseball receives NCAA recognition for academic excellence
---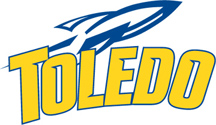 The NCAA released its annual Academic Progress Rate (APR) Public Recognition Awards Tuesday and The University of Toledo baseball squad was among the teams finishing in the top 10 percent of division schools in its sport.
The Rockets registered a score of 988 out of 1,000 to earn acknowledgment for the fourth time in the last five seasons.
"We're very pleased that our program's academic efforts are being recognized," UT Head Coach Cory Mee said. "We work extremely hard in this area and it's nice to see that hard work payoff."
"We are very proud of the work in the classroom of the student-athletes in our baseball program," said Vice President and Athletic Director Mike O'Brien. "Cory and his staff should be commended for their efforts in guiding and mentoring their team, both on the field and off."
APR is a gauge of every team's academic performance at a given point in time. Points are awarded on a semester-by-semester basis for eligibility, retention and graduation of scholarship student-athletes. A total of 1,000 is considered a perfect score. The APR data is a cumulative figure taken from the 2006-07, 2007-08, 2008-09 and the 2009-10 school years.
The Rockets will wrap up their regular season this weekend at Ball State in a three-game Mid-American Conference series. The West Division rivals will play single contests Thursday, Friday and Saturday, May 19-21. Action will begin at the ball diamond at 3 p.m. the first two days and 1 p.m. in the regular-season finale.