Speaker from Nature's Nursery to kick off 2016 UT Naturalist Series
---
A naturalist-themed event at The University of Toledo Lake Erie Center this Thursday may include visits from a large bird of prey, a large mammal, a reptile and a smaller bird.
"This event is part of our Naturalist Series," said Kathy Sullivan, communication and technology specialist at the center. "During the summer, we try to hold events that highlight something to do with the naturalist scope."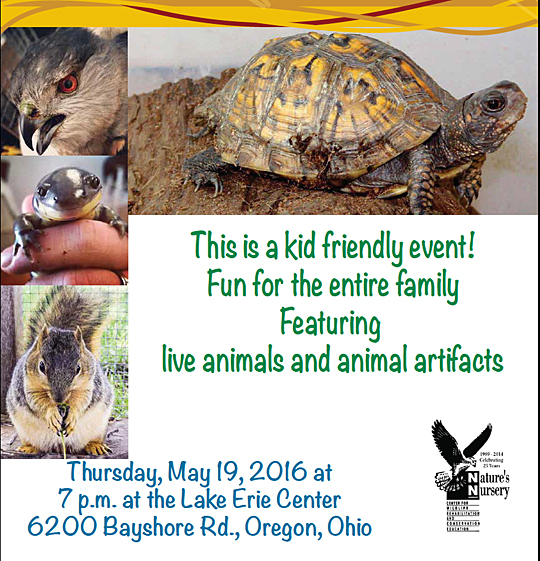 The first event in this year's series is titled "Naturalist Night Presents: Marquita Tillotson From Nature's Nursery," and it will take place at 7 p.m. Thursday, May 19, in the Lake Erie Center.
"With this event, I am hoping to teach the audience about the wildlife in the area, while also spreading the love for animals and understanding that we all need to learn to live together and respect all living things," said Tillotson, education coordinator at Nature's Nursery.
This free, public event is family-friendly; both children and adults are welcome to attend. Along with a collection of animals, Tillotson will bring artifacts such as feathers, pelts and bones.
Nature's Nursery Center for Wildlife Rehabilitation and Conservation Education is a nonprofit organization based in Whitehouse, Ohio, that provides medical care to injured, orphaned or ill wild animals. Rehabilitation of wild animals and public education are two of the main goals of the organization, which serves the surrounding region of 18 counties in northwest Ohio. The center provides care to more than 2,500 native animals per year and release more than 50 percent of those animals back into the wild.
The rehabilitation center also leads outreach programs for both children and adults on many topics, from conservation to the importance of wildlife to how to minimize conflict when humans interact with the natural world.
"These animals are all around us, whether we live in cities or in the country," Tillotson said. "So it is important that people learn to respect them and, hopefully, grow to love them like we do here at Nature's Nursery."
"Naturalist Night Presents: Marquita Tillotson From Nature's Nursery" will take place at the Lake Erie Center, located at 6200 Bayshore Road, Oregon.
To learn more about Nature's Nursery, click here.
For more information about the UT Lake Erie Center and its events, go to utoledo.edu/nsm/lec.