Rockets Land Impressive Academic Progress Rate Scores
---
The NCAA released its annual Academic Progress Rate (APR) figures May 19, and once again The University of Toledo received very impressive scores across the board.
For the four-year period from 2015-16 to 2018-19, all 16 Rocket varsity sports had at least a 939 score, above the NCAA's "cut point" of 930, with women's golf and men's tennis leading the way with perfect 1,000 marks. Those two sports plus football (983) had either the highest APR score or were tied for the highest score in the Mid-American Conference.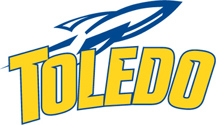 Four other Rocket teams were within five APR points of the league leader: baseball, women's basketball, women's soccer and women's volleyball.
The football team's APR of 983 set a record for the program and was the sixth time in the last seven year's that the Rockets had the highest APR in the league.
"We are very pleased to announce these impressive APR numbers," said University of Toledo Vice President and Athletic Director Mike O'Brien. "There is a strong correlation between APR and progress toward graduation, so this is an indicator we watch very closely. Our APR numbers have been consistently excellent, as have our graduation rates, which is the ultimate academic goal for our student-athletes. We take great satisfaction in knowing that 56 Rocket student-athletes received their diplomas this spring."
APR is a gauge of every team's academic performance at a given point in time. Points are awarded on a semester-by-semester basis for eligibility, retention and graduation of scholarship student-athletes. A score of 1,000 is considered perfect. Sports that fail to reach the "cut point" (930) can be penalized with the loss of scholarships, practice restrictions and post-season bans.
The APR data released this week is a cumulative figure taken from the 2015-16, 2016-17, 2017-18 and 2018-19 school years.