Toledo baseball to face Miami in opening round of 2012 MAC Tournament
---
No. 2 seed Toledo (30-25, 19-8 Mid-American Conference) will begin its journey to capture the 2012 MAC Tournament crown when it battles No. 7 seed Miami (28-27, 12-15 MAC) in the opening round Wednesday, May 23, in Avon, Ohio.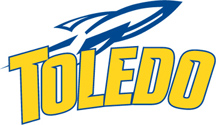 The first pitch from All Pro Freight Stadium is slated for approximately 4 p.m.
The winner will advance to face either No. 3 seed Central Michigan or No. 6 seed Eastern Michigan in the second round of the double-elimination tourney Thursday at approximately 7:30 p.m.
The 2012 MAC West Division Champs will be in search of their first tourney title in school history. Since the MAC Tournament's inception in 1981, UT has appeared in the championship game on two occasions in 1982 and 2009. The winner of the 32nd annual postseason tourney will receive an automatic bid to the NCAA Regionals.
The Rockets will square off against the cross-divisional rival RedHawks in the opening game of the postseason tournament for a third-consecutive season and fourth time overall. UT has won two of the three matchups, claiming a 3-0 victory in 1999 and a 7-1 triumph in 2010. The RedHawks' lone win occurred last spring in the form of a 3-1 victory.
UT has qualified for the MAC Tournament for a school record fourth-consecutive season and eighth time overall. Last spring, the No. 6 seed Rockets suffered back-to-back losses to Miami and No. 2 seed Central Michigan, 9-8, at VA Memorial Stadium in Chillicothe. Toledo is 8-13 (.381) all-time in the post-season tourney.
The Midnight Blue & Gold enter the postseason as hot as any team in the league having swept the last two weekends against Bowling Green and Eastern Michigan to claim their first MAC West Division crown in school history. UT posted an impressive .319 (73 for 229) batting average and averaged 8.0 runs on 12.2 hits per contest to sweep the back-to-back weekend series. UT also accumulated an outstanding 2.59 ERA and surrendered 23 runs (17 earned) in the six victories.
Individually, senior infielder Joe Corfman batted a team-high .462 (12 for 26) during this stretch, followed closely by senior infielder Matt Delewski and senior outfielder Ben Hammer with impressive .435 (10 for 23) marks.
Overall this spring, Toledo is hitting .270 (ninth in the MAC) with 265 runs (4.8 runs per game) scored through the first 55 games. Individually, junior infielder Wes White is pacing the squad with a .350 (36 for 103) mark, followed by Corfman and Delewski with .335 (76 for 227) and .311 (52 for 167) averages, respectively.
Corfman recently collected a leadoff double at Ohio State to become UT's all-time hit leader (259 hits), surpassing former teammate Chris Dudics (254, 2008-11). The 2010 first-team All-MAC selection is tied for fifth in the league (76) and ninth in UT annals in hits in a single season.
On the mound, the Rockets are tallying a respectable 3.92 ERA, the third-best mark in the MAC, and their lowest total since the 1984 campaign (3.53 ERA). As a staff, UT's hurlers are limiting opponents to a .275 average, yielding 5.0 runs on 9.5 hits with a league-low 3.4 walks and 6.4 strikeouts per game. Toledo has yielded two runs or less on 13 occasions this spring.
Individually, senior right-handed pitcher Matt Kuna and sophomore left-handed pitcher Ryan Wilkinson are pacing the Rockets with 2.51 and 2.75 ERAs, the third- and fifth-best marks in the league, respectively. Kuna also sits fourth in opponent batting average (.223, 60 for 269).
Toledo Head Coach Cory Mee expects Wilkinson (7-3, 2.75 ERA) to receive the ball against Miami. The Munster, Ind., native has started 10 games this spring and has worked at least 6.0 innings in four starts. He has accumulated 72.0 innings of work, surrendering 32 runs (22 earned) on 76 hits with 48 strikeouts. Wilkinson is tied for third in the MAC in wins, tied for fourth in shutouts (1), fifth in earned run average, and tied for 10th in complete games (1).
Wilkinson saw action out of the bullpen against the RedHawks earlier this spring, allowing only one hit with four strikeouts in 5.0 scoreless innings in a 7-6 series-opening victory.