Two Toledo Softball Players Receive All-MAC Honors
---
Toledo's Riley Mohr and Jenna Kroll received All-MAC honors for their performance during the 2023 softball season, the Mid-American Conference recently announced. Mohr earned first-team honors while Kroll received second-team honors.
Mohr, a native of Bellevue, started all 46 games this season, primarily at first base. She was second on the team with a .343 batting average, tallying nine doubles, 28 RBIs and 16 walks. In the last series of the regular season, Mohr was responsible for a game-winning home run to give Toledo the 3-2 (8 inn.) triumph over Western Michigan. Mohr's 54 career walks ranks No.10 on the program's all-time list behind Ashley Maynard (2015-17), who drew 57 walks in her career.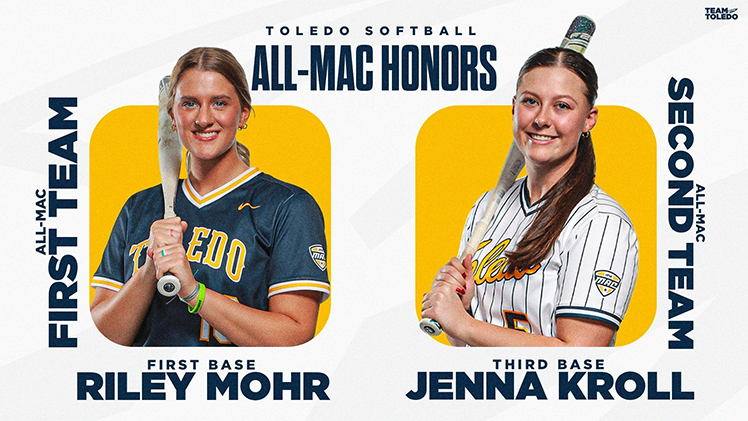 A native of Commerce, Michigan, Kroll also started all 46 games for the Midnight Blue and Gold, mostly at third base. Kroll led the team with a .348 batting average (10th in the MAC), a .568 slugging percentage, 29 RBIs, eight homers, and 19 walks. Kroll hit her first career grand slam in the season opener vs. Bellarmine on Feb. 10 that gave the Rockets a 6-5 victory.
Kroll also is in the single-season and career record books for Toledo. She has 19 career home runs, which is tied with Rhonda King (1987-90) at No. 7 on Toledo's all-time list, and her slugging percentage of .568 this past season ranks No.10 on the single-season list.
This is the first time on the All-MAC team for both Mohr and Kroll. This is the first season since 2019 in which the Rockets had players named to both the first and second team.