Global Health Forum welcomes students to share international experiences
---
Students in The University of Toledo Medical Center's Global Health Program have a unique opportunity presented as part of their medical school curriculum. During their time at UT, these aspiring physicians have the requirement of an international medical experience to bring to life what they learn in the classroom.
Students, faculty and staff are welcome to hear about the trips taken by fourth-year UT students at this year's Global Health Forum, which will start at 5 p.m. Wednesday, May 25, in Collier Building Room 1200.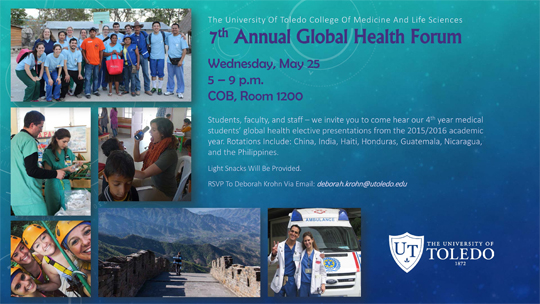 "It's a forum in which the students actually talk about their global health experience," said Dr. Kristopher Brickman, professor and chair in the Department of Emergency Medicine. "It's a combination of both academic rotations — they will spend a month at different locations across the world in areas that are different than ours — and also mission activities where they will go on a trip with one of our faculty members one of our faculty members taking care of patients for a more limited time frame of five to 10 days."
At this year's forum, students will present on their global health electives from the 2015-16 school year, with rotations that included Haiti, China, India and many others. Students will have up to 10 minutes to talk about their particular elective experience, what affected them, how the trip helped them develop culturally and professionally, and more.
The overall aims of UT's Global Health Program include developing an international curriculum for UTMC that encompasses academic, clinical and research experiences over a span of one to three months. Academic centers range from rural populations to major cities around the world.
Brickman himself recently returned from a trip to San Salvador, El Salvador, where he began working with one of the local church organizations to set up the next possible medical mission site for the program.
Brickman said these experiences are crucial for the fulfillment of the Global Health Program. The level of education reached by traveling outside of the United States accomplishes two goals, the first of which is better preparedness for the medical profession today.
"Everybody on the planet can get virtually anywhere within 24 hours, for the most part, which means literally any disease anywhere in the world can basically be in your clinic, in your emergency department, at any time," Brickman said. "Because of that, there's a relevance factor in that we need to know what's going on in the rest of the world."
The second major key that makes global experiences important, according to Brickman, is the ability to connect with patients on a level far deeper than can be achieved by simply reading pages of a textbook.
"You have to live it — you have to embrace that culture, and you have to be part of that culture," Brickman said. "That's what we try to make happen with our Global Health Program."
Light snacks will be provided. Those interested are encouraged to RSVP by contacting Deborah Krohn at deborah.krohn@utoledo.edu.