Honoring Public Service
---
UToledo President Gregory Postel presents Dr. Suzette R. Cowell an honorary doctor of public service degree during a Tuesday breakfast reception at the Carlson Library Main Event Space.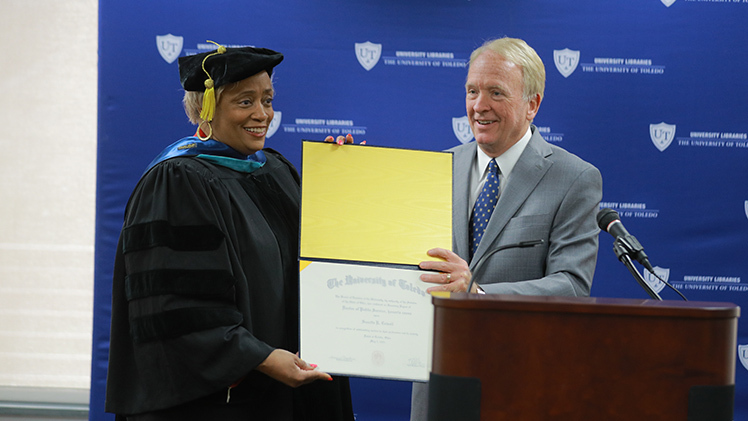 Valerie Simmons-Walston, special assistant to the president for Community Engagement and Strategic Partnerships, submitted Cowell's recommendation for her many years of dedicated service to the Toledo community and beyond as the embodiment of the "Rocket spirit."
Cowell is founder and CEO and treasurer of Toledo Urban Federal Credit Union, an institution credited with revitalizing the central city neighborhood within the community.
She was appointed by the Federal Reserve Bank of Cleveland to serve on an advisory board to provide input, solutions and feedback on issues that may arise at Community Federal Credit Unions for this region, with assets below $10 million.
Cowell brought the African American community together and pioneered the African American Festival, now in its 18th year, and helped with the Dorr Street Corridor revitalization efforts. She serves on countless boards, has received numerous awards, supports diversity education and advocates for underrepresented populations.