UT student-athletes earned 3.181 GPA last semester
---
University of Toledo Vice President and Athletic Director Mike O'Brien announced today that UT student-athletes earned a grade point average of 3.181 in spring semester.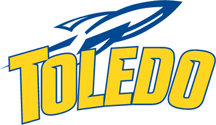 It is the 11th consecutive semester in which UT student-athletes earned a combined GPA of 3.1 or higher. Additionally, 13 UT sports earned team GPAs of 3.0 or above.
Individually, 22 student-athletes earned president's list honors with a perfect 4.0 GPA, while nearly 35 percent (117 of 337) earned a spot on the dean's list by garnering at least a 3.50 GPA, and 64 percent (218 of 337) achieved a 3.0 grade point average or better for the 2014 spring semester.
Women's tennis had the highest team GPA at 3.539. Baseball had the highest GPA for a men's team with 3.389.
"We are rightfully proud of the consistently outstanding effort of our student-athletes in the classroom," O'Brien said. "For each of the past 11 semesters, they have earned a combined grade point average of at least 3.1, which says a lot about their dedication and commitment to academics. It is also a positive reflection upon the coaches, athletic department academic staff and University faculty members who play such a critical role in supporting and nurturing their pursuit of excellence."
UT student-athletes' grades are consistently among the best in the Mid-American Conference. UT won the MAC Institutional Academic Achievement Award in 2011-12 and 2012-13. The award is given to the MAC school with the highest overall institutional GPA in sports sponsored by the conference.
Toledo 2014 Spring Semester Team GPAs (3.0+)
Overall Department GPA: 3.181
Women's Tennis 3.539
Women's Swimming 3.508
Volleyball 3.499
Women's Soccer 3.436
Women's Cross Country 3.390
Baseball 3.389
Women's Golf 3.361
Women's Basketball 3.276
Softball 3.230
Men's Golf 3.204
Men's Cross Country 3.195
Women's Track & Field 3.111
Men's Basketball 3.053