Rockets Preparing for Full Capacity at Glass Bowl in Fall
---
With the falling positivity rate of COVID-19, increased vaccination numbers and recent announcements by the federal government and the state of Ohio that ease restrictions on large gatherings, The University of Toledo is planning to welcome back fans to the Glass Bowl at full capacity this fall.
"With the recent positive developments with respect to vaccinations and the declining positivity rate of COVID-19 cases, we are moving forward with a return to 100 percent capacity in the Glass Bowl and our other sports venues in the upcoming school year," said Vice President and Athletic Director Mike O'Brien. "For our football season ticket members, that means returning to the seats that they held in 2019, if they so choose. Football season tickets have been selling very well. We hope that our fans will come out and support what should be a terrific Rocket Football team this fall."
FULL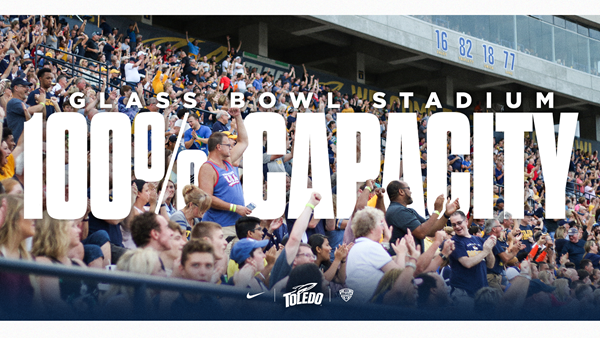 Ohio Governor Mike DeWine announced on May 12 that health orders related to COVID-19 would be lifted as of June 2. The order removes restrictions on capacity limits, social distancing rules and the mask mandate, except for special cases, such as in nursing homes and assisted living facilities. In addition, the Center for Disease Control announced that fully vaccinated people would no longer need to wear masks outdoors or in most indoor settings.
Other aspects to game day — including tailgating in the parking lots around the Glass Bowl and the capacities in private suites — will return to normal in 2021.
Season tickets for The University of Toledo's 2021 football season are on sale now.
Single-game tickets are expected to go on sale in July. Season tickets can be purchased for as low as $70 and include a reserved seat for all six Rocket home games. The 2021 home schedule includes contests against Colorado State, Norfolk State, and MAC foes Western Michigan, Northern Illinois, Eastern Michigan, and Akron. Five of the six home games in 2021 will be played on Saturdays.
Discounted season ticket options are also available for full-time UToledo employees, retirees, recent alumni and parents of game-day performers (band members, cheerleaders, dance team and mascots).