Minority vendor showcase coming to campus May 29
---
The University of Toledo will host a Minority Supplier Showcase Wednesday, May 29, from 10 a.m. to 2 p.m. in the Thompson Student Union Ingman Room.
"The purpose of this showcase is to promote University spending with local companies. It's a great opportunity for purchasers on campus to become familiar with and consider utilizing the goods and services offered by businesses in our region that they may not be aware of," said Dr. Willie McKether, vice president for diversity and inclusion.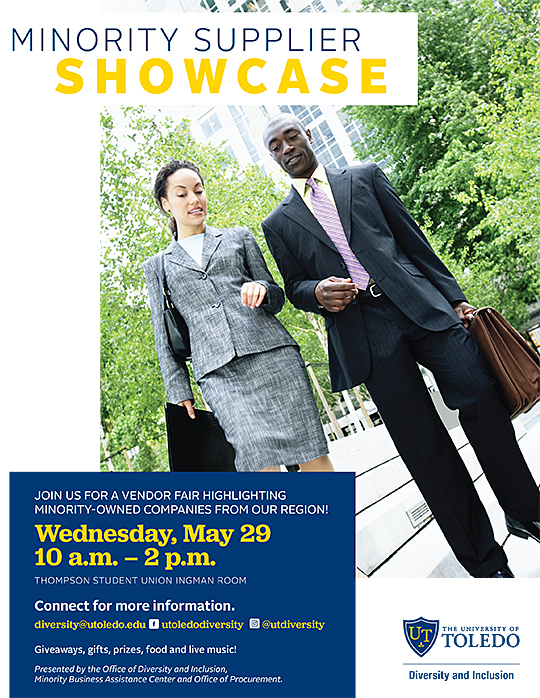 Part of the University's Strategic Plan for Diversity and Inclusion, the Minority Supplier Showcase increases knowledge and awareness of Minority Business Enterprises and Encouraging Diversity, Growth and Excellence businesses with a goal of increasing their participation as providers of goods and services for UToledo.
Twenty-four vendors will be at the showcase; these will include companies specializing in office supplies, promotional products, furniture and transportation.
There will be samples, prizes, food and live music. Faculty, staff and community members are encouraged to attend.
Representatives of The University of Toledo's Minority Business Development Center and Minority Business Assistance Center will be available with information about resources and education opportunities.
For more information, contact Vera Mendoza at 419.530.5535 or diversity@utoledo.edu.