4 Softball Players Earn Academic All-District Honors
---
Toledo's Anna Dixon, Erin Hunt, Lauren Erickson and Riley Mohr have earned academic honors from the College Sports Communicators (CSC), which recently announced its 2023 Academic All-District Softball Teams.
Dixon received her degree in recreational therapy in May with a 3.718 GPA. The Novi, Michigan, native led the team with 31 runs scored, four triples and 14 stolen bases and was named MAC Player of the Week on March 21 for the first time in her career.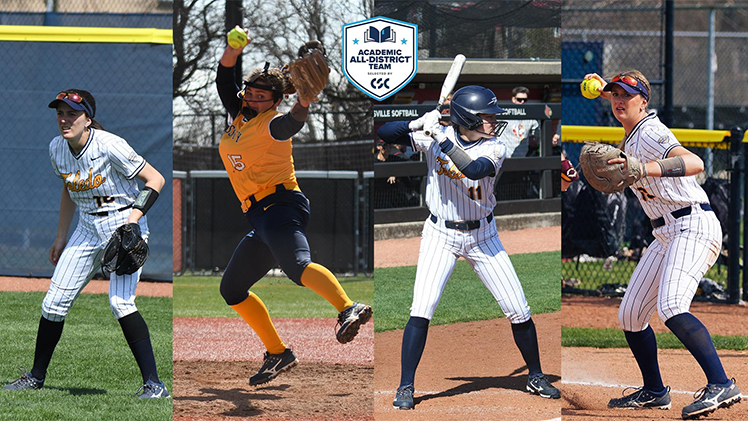 Hunt graduated with a degree in biology and nursing with a 3.61 GPA and posted a 4.0 GPA this spring as a graduate student pursuing her master's degree in public health. The Danville, Michigan, native ranks among Toledo's all-time leaders with 632 strikeouts (No. 2), 15 career shutouts (No. 3), 59 wins (No. 3), 658 innings pitched (No. 6), .573 winning percentage (No. 6), 98 career starts (No. 6), and 215 career appearances (No. 8).
A Dublin native, Erickson is a civil engineering major with a 3.976 GPA. The junior outfielder had 37 hits with six doubles, three triples, five home runs, and 20 RBIs this season.
Mohr is pursuing her degree in chemical engineering with a 3.564 GPA. The first baseman earned First-Team All-MAC honors and was second on the team with a .343 batting average, tallying nine doubles, 28 RBIs and 16 walks.
The CSC Academic All-District honors recognize the nation's top student-athletes by their academic achievements and athletic accomplishments. To be eligible, a student-athlete must have a minimum cumulative grade-point average of 3.50 and have competed in at least 50% of the team's games.
All honorees move to the CSC Academic All-America ballot where first, second and third teams will be announced Tuesday, June 6.