Rockets to host four Ultimate Fan Plan luncheons in June
---
The University of Toledo Athletic Department will host four luncheons in June for Rocket fans interested in learning more about the Ultimate Fan Plan football season ticket offer.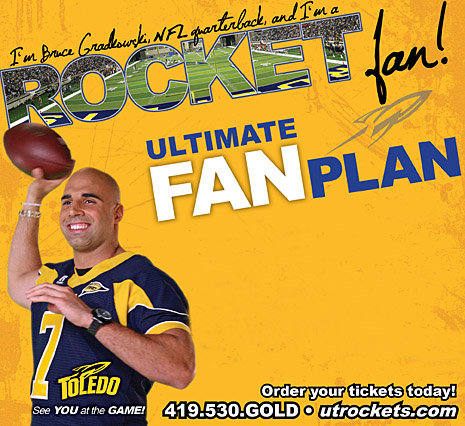 Luncheons for the general public will take place Wednesday, June 9; Thursday, June 10; and Tuesday, June 15.
A luncheon for UT employees will be held Wednesday, June 16.
All luncheons will be from noon to 1 p.m. in the Sullivan Athletic Complex at Savage Arena, just in front of the ticket office.
Fans will be able to ask questions about the Ultimate Fan Plan while they have a free lunch of Chick-Fil-A sandwiches, chips and soft drinks. Fans may sign up for the Ultimate Fan Plan or any other season ticket plan at that time.
Head Coach Tim Beckman or a Rocket assistant coach will be on hand to meet with fans. Free football posters and schedule cards also will be available.
The Ultimate Fan Plan includes a football season ticket, free food and parking for every game, as well as a $25 gift certificate for Rocket merchandise. The Ultimate Fan Plan is available for just $55 or $27.50 for full-time UT employees (limit two tickets at half-price; additional tickets may be purchased at full price). The total value of the package is $249, a savings of $194 per season ticket purchased for non-UT employees or a savings of $221.50 for UT employees.
Fans interested in attending the luncheon should RSVP to Heather Lutz at 419.530.2486 or heather.lutz@utoledo.edu.