Toledo Choral Society to honor legendary jazz pianist at scholarship benefit concert
---
The Toledo Choral Society will feature "Celebration for Art Tatum" by Dr. David Jex, UT professor of music, at its "Tributes" concert Sunday, June 10, at 3 p.m. in Doermann Theatre.
"Celebration for Art Tatum" is a suite of five expressive movements, each based on Langston Hughes poetry. It starts with the question "Can you love an eagle, tame or wild," urges listeners to "Bring me all of your dreams," and concludes with a rollicking "Fantasy in purple."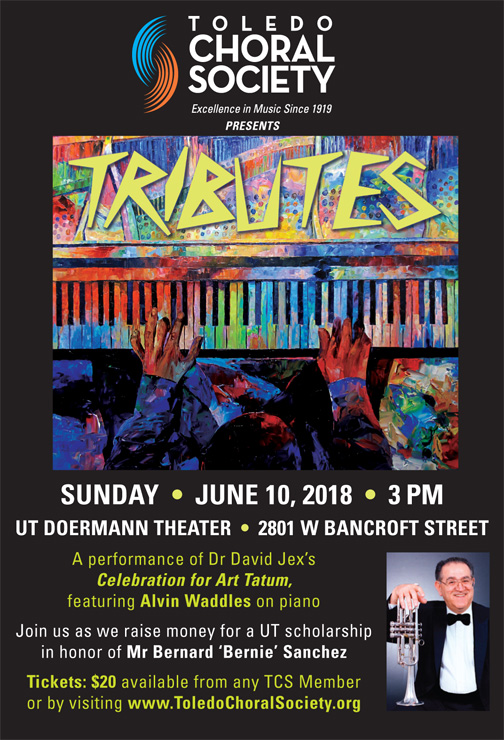 During the concert, the innovative jazz spirit of Tatum will be honored by world-renowned guest pianist Alvin Waddles, a Detroit native.
The show also will feature traditional American folk songs and gospel music.
Richard Napierala, musical director of the Toledo Choral Society, will conduct the concert. He received bachelor of education and master of music performance degrees from the University. 
The Toledo Choral Society is a nonprofit organization aimed at contributing to the local musical community through the performance of significant choral works. It is Toledo's oldest continuously performing musical organization, with its 100th anniversary celebration to be held during the 2019-20 concert season.
Proceeds from this concert will benefit the Bernard Sanchez Memorial Scholarship at The University of Toledo. A beloved professor and performer, Sanchez made an impact on the Toledo musical community for more than 50 years.
Tickets are $20 each and are available at toledochoralsociety.org.
Those who wish to contribute to the Bernard Sanchez Memorial Scholarship may contact Nick Butler at the UT Foundation at 419.530.5413 or click here and search Bernard Sanchez.