UToledo Alumnus' Film Gets National Play on Amazon Prime
---
The film "Dream Runner" (2020) by University of Toledo alumnus James Aponte is streaming on Amazon Prime Video.
The film's national debut on Amazon is a major step forward in Aponte's effort to take his film to mainstream audiences.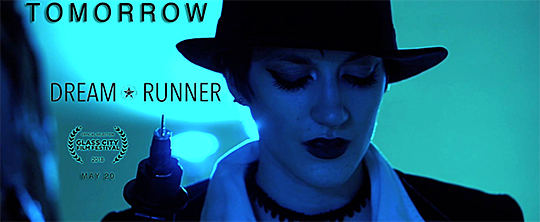 "It's been two years of navigating distribution, but I am so happy to say that … my feature film 'Dream Runner' is now streaming on Amazon Prime!" Aponte, who received a bachelor of arts degree in film and video in 2016, wrote on Facebook announcing the film's release.
Dr. Edmund Lingan, UToledo professor and chair of theatre and film, said he is thrilled that Aponte's film is receiving national play, but not surprised.
"As a UToledo student — and later as a professional filmmaker — James always proved to be that rare blend of artist and entrepreneur that leads toward professional success. Our department has been proud and happy to support his work from the beginning, and I am sure this is only the beginning of a series of successes in his career that I will enjoy watching."
The film's subject matter leans toward sci-fi, as the opening text makes clear: "Humans no longer dream. Now man-made, dreams are sold in supermarkets, drug stores and fueling stations. Certain dreams are declared illegal by world governments and organizations. Patrons turn to dream runners to attain these illicit fantasies."
Watch the "Dream Runner" trailer.
A host of UToledo and Theatre and Film Department grads star in and helped create the film.
Cast members include 2016 theatre alumna Olivia Pierce as Dana; 2014 UToledo alumnus Ian Davis as Drake; 2016 theatre graduate Nolan Thomaswick as Robbie; 2016 theatre alumnus Jeffrey Burden II as Julian; 2017 theatre graduate Christina Pinciotti as Rene; and 2017 theatre alumna Samantha Campbell as Victoria Kingsley.
Production team members include Nick Kostelnak, 2015 film/video graduate, producer; John Eidemiller, media producer/director in the Communication Department, producer; Stephen Mariasy, 2015 film/video alumnus, music; Andre Lewis, 2018 film/video graduate, cinematography; Marcus Jordan, 2017 film/video alumnus, production management/assistant director; and Ryan Dalton, 2017 music graduate, guitar.