Rockets' new ticket system debuts
---
A new era for Rocket fans looking to score great seats to sports events began yesterday as The University of Toledo Athletic Department debuted a new ticketing system designed to be more fan-friendly.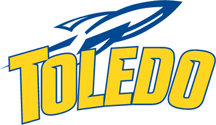 In partnership with TicketReturn, the Rockets' new system will provide ticketing service for all UT Athletics home events, including online ticketing applications, premium seating management and access control services. TicketReturn also will enhance the UT Athletic Ticket Office's box office and online fan service.
"We are excited to enter into our new partnership with TicketReturn," said UT Senior Associate Athletic Director Dave Nottke. "The new system will offer our fans greater flexibility in managing their ticket accounts with the Rockets. We're confident that our fans will love the convenience that our new ticketing system with TicketReturn will provide them."
UT Athletic Ticket Manager Roseann Croop said that the new system will give fans the ability to create personalized accounts, renew season tickets, make seat selections, and print tickets at home. Fans also can count on receiving the same great personal service that has been the hallmark of the UT Athletic Ticket Office.
"With the new system, we will now be able to provide our customers with state-of-the-art ticketing service," Croop said. "And, as always, we will be on hand in the Athletic Ticket Office in Savage Arena to provide our fans with the personal customer service they have come to expect."
Croop added that with the new ticketing system up and running, 2014 football season ticket invoices were mailed out this week.
TicketReturn is a leading provider of box office and online ticketing services, with innovative event marketing, access control, attendance reporting, accounting and fund-raising features for sports and entertainment venues coast to coast. TicketReturn serves more than 200 venues in the United States and Canada, issuing more than 20 million tickets annually. Since its founding in 2001, TicketReturn has become the largest single provider of ballpark ticketing services in Minor League Baseball, and is licensed by Major League Baseball Advanced Media to provide online ticketing to fans at MiLB.com. The company also has developed custom online student ticketing services for major universities across the country.
For more information, call the UT Athletic Ticket Office at 419.530.GOLD (4653) or go to the official UT Athletics website and click on "purchase tickets now."