Former Rocket Distance Runner Elected Into MAC Hall of Fame
---
Former Rocket track and cross country star Briana Shook is one of six new members inducted into the Mid-American Conference Hall of Fame.
Shook joins Stevi Large Gruber (Akron, women's track and field), Bryan Bullington (Ball State, baseball), Margo Jonker (Central Michigan, softball), Wally Szczerbiak (Miami, men's basketball) and Ellen Herman-Kimball (Ohio, volleyball) in the 2020 induction class.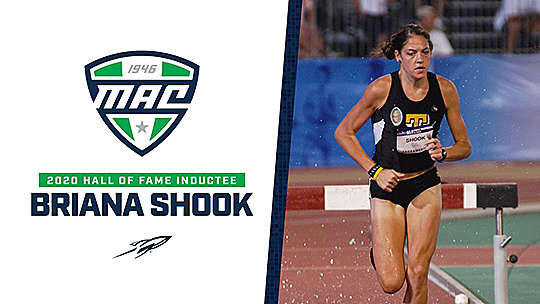 She said she is honored to be representing The University of Toledo in the MAC Hall of Fame.
"It has been 15 years since I have raced, so getting the news of being inducted definitely took me back to the line, waiting for the gun," Shook said. "Back then, I never thought there would be a time when running wasn't my life. Today I try to teach my kids that hard work pays off and that the memories are worth living wholeheartedly at the time that you are making them. I would go back in a heartbeat to race again.
"Everyone wishes they had a super power; every time I raced, I felt like I found mine. I am so honored for the nomination and proud to be a Toledo Rocket alum."
MAC Commissioner Jon Steinbrecher praised this year's induction class.
"We have such a storied history within our conference, and it is important to honor and celebrate the accomplishments of our former students, coaches and administrators, specifically these six individuals, and their achievements during their time competing in the Mid-American Conference," Steinbrecher said. "We are honored to welcome this year's class to the Mid-American Conference Hall of Fame."
Shook is one of the most decorated student-athletes on the track in Toledo and MAC history. She was a three-time All-American in both cross country and track and field. Over the course of her career, Shook (2000 to 2004) won 11 MAC titles and added three runner-up finishes, as well.
Shook helped lead the Rockets to back-to-back MAC Cross Country Championships in 2001 and 2002, winning the individual race both seasons. In 2002, she was named the NCAA Great Lakes Region Cross Country Runner of the Year. Shook was a three-time MAC champion in the indoor 3,000, and twice each in the indoor 5,000, the outdoor 5,000 and the 3,000-meter steeplechase. She still holds the MAC record in the indoor 3,000 meters (9:25.91) and the steeplechase (9:49.44).
At the 2002 MAC Outdoor Championship Meet, Shook earned the Most Valuable Performance award for her victory in the steeplechase and 5,000 meters. She went on to finish in fifth place in the steeplechase at the NCAA Championship Meet that year. Shook also earned Most Valuable Performance honors at the 2003 MAC Indoor Championship Meet for her first-place finishes in the 3,000 and 5,000 meters.
In 2004, she was named the MAC Outdoor Championship Meet Most Valuable Performer and was named NCAA Mideast Track and Field Athlete of the Year. She won the steeplechase (9:59.22) and the 5,000 meters (16:22.46) at the 2004 MAC Meet and finished second at the NCAA Championship Meet in the steeplechase.
During the summer of 2004, Shook made history by setting the American record in the 3,000-meter steeplechase with her 9:29.32 clocking in Belgium, a time that was fourth best in the world that year. She was ranked No. 1 in the U.S. in the steeplechase by Track & Field News in both 2003 and 2004, winning the USA Outdoor title in 2003. In 2004, she won the U.S. Olympic Trials, but was disqualified for missing a jump, even though she actually ended up running a longer race than her competitors.
Shook graduated from Toledo in 2004 with a degree in communications and photography, earning Academic All-MAC honors as a senior. She went on to join the Toledo coaching staff, serving as an assistant from 2004 to 2008. Shook was instrumental in helping to guide the women's cross country program to a MAC runner-up finish in 2005 and an eighth-place finish at the 2006 NCAA Regional Championships, the highest of any MAC program that season. She also helped to guide Ebba Stenback to an eighth-place finish and All¬-America status at the 2006 NCAA Championships in the 3,000-meter steeplechase. Under Shook's guidance, Stenback also was the NCAA Mideast Regional Champion and No. 2 all-time steeplechaser in MAC history behind Shook.
Shook later served as head women's track and cross country coach at Heidelberg University from 2010 to 2013. She coached 13 All-Americans, two national champions, and was named Ohio Athletic Conference Women's Track and Field Coach of the Year in 2010 and 2013. She retired from coaching in 2013 to help raise her three children with her husband.
Shook was inducted into The University of Toledo Varsity T Hall of Fame in 2010 and the Ohio Track and Cross Country Hall of Fame in 2020. She resides in Mexico, Mo., with her husband, Robert, and the couple have three daughters — Haleigh (13), Atley (7) and Georgia (5).
The MAC Hall of Fame was approved by the MAC Council of Presidents in 1987. The charter class was inducted in 1988 and subsequent classes were added in 1989, 1990, 1991, 1992 and 1994. After six induction classes, the MAC Hall of Fame maintained 52 members until it was reinstated in May 2012. This year's class brings the number of MAC Hall of Fame inductees to 102 individuals from 15 classes.