First Read Program to consider end of world
---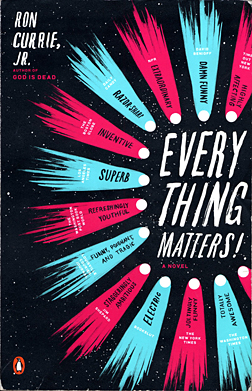 What if you were born with the knowledge that the Earth would be utterly destroyed when you were 36 years old? That's the life-changer set in the psyche of the main character in Everything Matters!, the novel by Ron Currie Jr. and the book selected for this year's First Read Program.
First Read is a partnership between the UT Division of Student Affairs and the College of Innovative Learning. The program provides students with a common reading experience, opening the door to the academic experience while developing a strong sense of community with their fellow students, faculty and staff both inside and outside the classroom, according to Jennifer Rockwood, assistant dean of the college and director of the First-Year Experience Program.
The novel's hero, "Junior" Thibodeau — "the fourth-smartest person in the history of the world" — receives messages from the same mysterious omniscient voice that revealed the planet's demise. Junior's attempts to carry the voice's "Everything matters!" message into the doomed world make for a darkly funny tale.
Currie, whose first book, God Is Dead, earned him critical accolades and comparisons to Kurt Vonnegut, will visit UT in September for a lecture.
"We are hoping that students and faculty and families will read this book this summer and all get on the same page," Rockwood said. "This is a great opportunity to interact in the community of higher learning via reading, critical reflection, open and honest discussion, analysis and writing. These academic activities lie at the heart of the life of The University of Toledo."
Duke University is among several that are using the thought-provoking novel as well, she added.