Two UToledo Athletes Named MAC Medal of Excellence Recipients
---
University of Toledo women's soccer player Abby Demboski and men's tennis player Danilo Vukotic have been awarded the Mid-American Conference Medal of Excellence.
Demboski and Vukotic were both honored by the MAC for their academic and athletic achievements during their collegiate careers. Demboski graduated this spring with a degree in nursing, and Vukotic graduated this spring with a degree in information technology.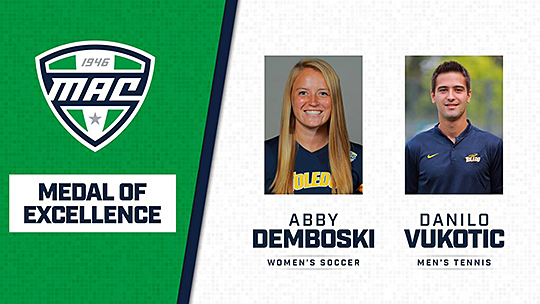 A four-year starter on the soccer team, Demboski appeared in 80 matches during her career and was a key cog during the Rockets' 2017 MAC Championship run. She made 29 starts over the past two seasons as a midfielder and scored three goals as a senior in 2019. Off the field, Demboski was a three-time Academic All-MAC selection.
"Abby was an incredible part of our soccer team the past four years," Head Women's Soccer Coach TJ Buchholz said. "Beyond her success on the field, Abby was a significant leader for our team in the classroom. Abby always set the academic bar extremely high for our team, and we are grateful for her leadership during her four years as a Rocket."
Vukotic spent much of his three-year Toledo career playing on the top two courts in both singles and doubles play, tallying 25 victories on the No. 1 court as a Rocket. This past season, he won 17 combined matches in singles and doubles and was a two-time MAC Player of the Week honoree.
"Danilo was driven on the court and maintained an amazing purpose in the classroom," Head Men's Tennis Coach Al Wermer said. "He became a great leader for our team this year in all areas. This award is very well-deserved."
The Medal of Excellence is an award presented annually to one male and one female student-athlete from the graduating class of each of the 12 conference member institutions. To be honored with the Medal of Excellence Award, student-athletes have to participate on the varsity level in a conference-sponsored sport. They show evidence of academic success with a minimum 3.50 accumulative grade-point average, while also exhibiting athletics excellence, leadership and service.