Glassmen to return to Glass Bowl
---
The Glassmen are taking part in the All-Star Review Thursday, June 25, at 7:30 p.m. in the Glass Bowl Stadium on UT's Main Campus.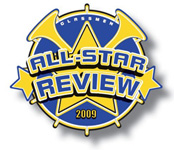 The Glassmen will compete against six corps from across the country: The Holy Name Cadets from Pennsylvania, The Cavaliers from Illinois, the Boston Crusaders from Massachusetts, the Crossmen from Texas, the Colts from Iowa and the Capital Regiment from Columbus, Ohio.
Members from the Glassmen drum and bugle corps will give a clinic prior to the competition at 4 p.m.
This event is sponsored by Rettig Music Inc. and the Holiday Inn French Quarter.
Tickets range from $12 to $40.
To purchase tickets, call Drum Corps International at 313.275.1212 extension 3 or go online at www.dci.org/tickets.