Several business programs receive high continental and global rankings from Eduniversal
---
Eduniversal, a global ranking and rating agency specializing in higher education, has again repeatedly included The University of Toledo College of Business and Innovation in its latest listing of Best Business School programs.
The just-published results of the Eduniversal ranking for the 4,000 best masters and MBAs in 32 fields of study worldwide ranks the UT College of Business and Innovation in these programs: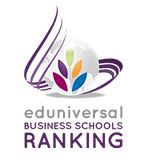 • Master of Business Administration, ranked No. 35 in General Management, North America;
• Human Resources Management, ranked No. 30 in Human Resources, North America;
• Marketing and Professional Sales, ranked No. 37 in Marketing in North America;
• Master in Supply Chain Management, ranked No. 93 in Supply Chain and Logistics, worldwide; and
• Executive MBA, ranked No. 47 in Executive MBA and MBA part time, North America.
In announcing the rankings, Eduniversal stated: "This recognition acknowledges the quality and success your institution has achieved over the past year, to which we measure across three main criteria: The reputation of the programs: highly recognized by recruiting companies and have an active approach toward them; the salary of first employment after graduation: placement of your graduates in the best job positions on the market; and student satisfaction: working to improve your programs by taking into account feedback from your students."
"We are very excited by these prestigious rankings, which validate the high quality of our faculty and students, as well as the significance of our curriculum," Dr. Gary Insch, dean of the College of Business and Innovation, said. "The fact that our Supply Chain Program ranked No. 93 in the entire world is a truly remarkable achievement.
"These significant recognitions are among the reasons that many well-known companies come to the UT College of Business and Innovation to find the talent they need," Insch added. "It reflects very positively on our outstanding quality, and demonstrates the extremely dynamic and mutually beneficial relationship enjoyed by our college and the business community."
The Eduniversal Evaluation System compiles and analyzes hundreds of data about business schools from global, national and regional higher education systems, taking into account the accreditations, the results of other rankings, and the distinctions obtained in the country of the schools analyzed.
Eduniversal (best-masters.com) has been working since 1994 to provide schools and students with the best information possible in the higher education sector. The Eduniversal ranking is published once a year and was announced at its recent annual world convention.