MCO alumna and best-selling author dies after battling cancer
---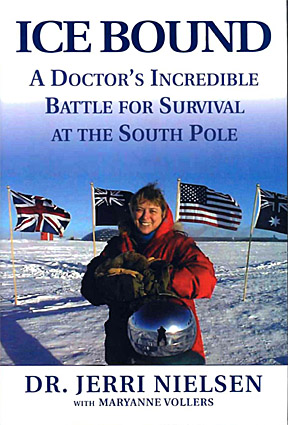 Dr. Jerri Nielsen, best-selling author and 1977 Medical College of Ohio graduate, died June 23 at age 57 at her home in Southwick, Mass.
The physician gained international attention in 1999 when she developed breast cancer while serving as the sole physician at Amundsen-Scott South Pole Station. She wrote about the experience in Ice Bound: A Doctor's Incredible Battle for Survival at the South Pole.
The only doctor for more than 100 hard-working people at the bottom of the world, Nielsen ran the aptly named Hard Truth Medical Clinic after a crash course in frontier medicine and dentistry with no support staff — or even a functioning X-ray machine. Halfway into the winter season, she discovered a suspicious lump on her breast.
When a self-performed biopsy confirmed her diagnosis, she began chemotherapy, using drugs delivered to the station in its first-ever off-summer airdrop.
Ultimately the tumor became resistant to the available drugs and Nielsen — an unwilling international celebrity — was airlifted out by the 109th Airlift Wing of the New York Air National Guard.
Following years of treatment, her cancer went into remission, only to return. "It went to my liver and my bones. In spite of that, I got re-married and had an incredible life," she said during a 2008 talk to UT medical students. "There's no end to life until your last breath."
After the publication of her book, she traveled the world, meeting people and giving inspirational talks.
UT named an endowed scholarship in Nielsen's honor in 2008. Memorial donations to the scholarship fund may be made here.