Toledo-Ohio State game Sept. 19 to kick off at noon; times for other games set
---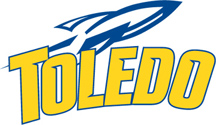 The football matchup between Toledo and Ohio State at Cleveland Browns Stadium on Saturday, Sept. 19, will kick off at noon.
The game will be televised on ESPN-Plus and ESPN Game Plan. ESPN-Plus games are produced by ESPN Regional and are generally aired on stations throughout the regions of the schools involved. ESPN Game Plan is a pay service available on cable and satellite systems throughout the country.
All other game times on the Rockets' football scheduled also were announced, with the exception of the Bowling Green game Friday, Nov. 27. Game time and television outlet for that game won't be determined until after the season begins.
The game times announced June 24 include:
• Sept. 5 at Purdue will kick off at noon on the Big Ten Network;
• Oct. 3 at Ball State will kick off at noon on ESPN-Plus/ESPN Game Day;
• Oct. 31 at Miami will kick off at 3:30 p.m. on the Ohio News Network; and
• The final three UT home games will all kick off at 7 p.m.
Click here for a PDF of the UT schedule.
For more information, go to www.utrockets.com.