Rockets Move to Digital Ticketing for Athletic Events
---
The University of Toledo Athletic Department has announced it will transition exclusively to digital ticketing for all ticketed athletic events, beginning with the 2020 football season. All season tickets, single-game tickets and parking passes are now fully digital and accessible via smartphones.
Digital ticketing provides the ultimate in convenience and increases safety by eliminating the physical handling of tickets. Digital ticketing also reduces frequent issues related to paper tickets, including theft, lost tickets, shipping delays, and the need for an early confirmation of a shipping address. Other advantages feature the ability for ticket purchasers to easily transfer tickets and manage their account via a smartphone.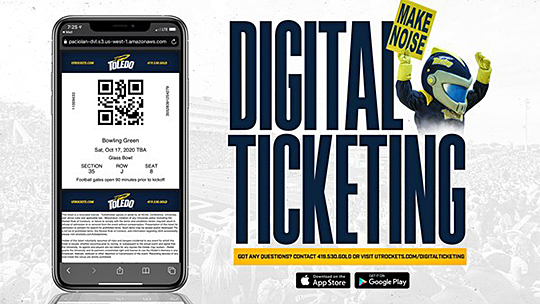 Digital ticketing is the safest, quickest, most cost-efficient and sanitary way for Rocket fans to receive their season tickets, mini-plan tickets, single-game tickets or parking passes. With this new process, fans can download and store their tickets to their smartphone, transfer tickets to a friend via text at the push of a button, and manage their account utilizing the new My Account 2.0 page when logging into their account on utrockets.com/myaccount.
"Many of our fans have already been using digital ticketing, so they are familiar with its many advantages over paper tickets," said Deputy Athletic Director Dave Nottke. "We truly believe digital ticketing will enhance the game-day experience for fans and will allow us to provide improved customer service."
For assistance or questions, go to UTRockets.com/digitalticketing, call the Rocket Ticket Office at 419.530.GOLD (4653), email at athleticticketoffice@utoledo.edu, or stop by the ticket office during normal business hours.
To renew or purchase 2020 Toledo football season tickets, go to the Toledo Rockets website.