Trustees approve 2017 operating budget
---
The University of Toledo Board of Trustees approved June 20 an operating budget for fiscal year 2017 that stabilizes and strengthens the University's financial foundation.
The $737.8 million operating budget is conservative with revenue based on 2016 enrollment and patient volume and reduced expenses through budget stabilization efforts taken earlier this year.
"This is a fiscally responsible budget that puts us in a stronger position moving forward to face the challenges and opportunities ahead," UT President Sharon L. Gaber said. "Our increased focus on attracting, retaining and recruiting students should lead to enrollment growth on our campuses; however, it was important for the institution to base this budget on our existing enrollment to establish a strong financial foundation not only for the coming year, but to build upon as we move into the future."
The balanced budget reflects stabilization efforts called for by the president including a 1.5 percent reduction to the operating budget for fiscal year 2016 and 3 percent to the entire budget for fiscal year 2017, which reduced operating expenses by about $12 million. The cuts for 2017 already have been enacted.
The 2016-17 budget includes no undergraduate tuition and general fee increases and no increase in graduate tuition, with the exception of the 2 percent increase for the third and fourth years of the Doctor of Pharmacy Program. Trustees previously approved a 2 percent increase in residence halls fees, and the budget includes a 2 percent increase in meal plan fees to cover additional costs.
Professional staff will receive a 2 percent wage increase. Senior administrators will defer 2 percent increases until January contingent on positive enrollment growth. Pay increases for union salary groups are included according to collective bargaining agreements.
For the clinical operations, net patient revenue is based on 2016 actual patient volume, and the budget reflects a reduction in operating expenses due to drug program savings and supply chain management pricing.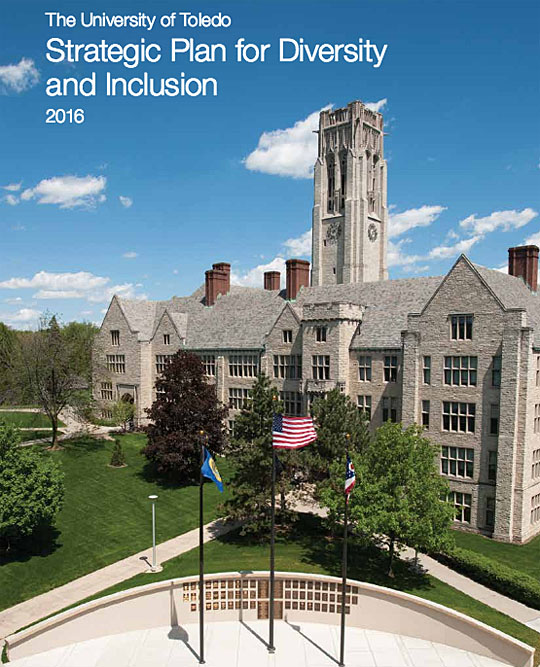 "In recent years the University has experienced changes in leadership, enrollment, state support and the health-care market, and we've accounted for those challenges and opportunities in a way that focuses our efforts on serving students and patients and supporting UT's quality faculty and staff," said Lawrence Kelley, who was recently named the University's executive vice president for finance and administration and chief financial officer after holding the position on an interim basis since November.
Trustees also approved a Strategic Plan for Diversity and Inclusion. The plan is the culmination of an eight-month process led by Dr. Willie McKether that engaged students, faculty, staff and members of the external community. McKether will lead the implementation of the plan as he starts his new role as vice president for diversity and inclusion July 1.
In addition, the trustees approved a collective bargaining agreement with The University of Toledo Police Patrolman's Association that includes a 2 percent wage increase in the first and second years of the contract and a reopening of wage negotiations in year three. The 28-member union ratified the contract April 23.
The board elected officers for the 2016-17 year. Sharon Speyer will continue to serve as chair, and Steven Cavanaugh will remain vice chair.
The June meeting also completed the service of Dr. S. Amjad Hussain, UT professor emeritus of thoracic and cardiovascular surgery, who was named to the UT Board of Trustees in 2007. Daniel Arendt, a student trustee in the Doctor of Pharmacy Program, also was recognized for his two years of service to the board.