Athletics announces partnership with Paciolan
---
The University of Toledo Athletic Department is entering a relationship with Paciolan July 1 that will enhance the ticket purchasing experience for Rocket fans.
Paciolan is the leading provider of ticketing, fundraising, marketing and analytic solutions for college athletics.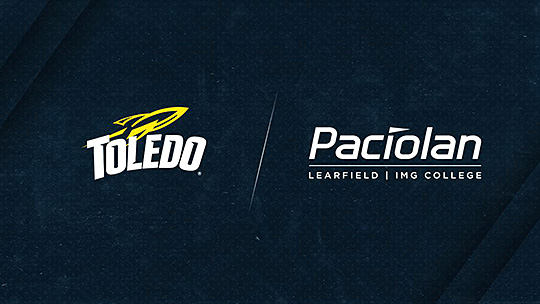 "We are proud to partner with Paciolan," Deputy Director of Athletics Dave Nottke said. "Paciolan's platform allows us to enhance our Rocket fan experience by improving the overall purchasing and managing of tickets. It also gives us the opportunity to send more personalized communications, connecting with our fans in a more meaningful way and growing our relationships."
Current Toledo ticket account holders will receive an introductory email to the new platform in early July.
Highlights of the platform include a more streamlined experience for purchasing tickets and attending events, and a customized mobile experience. Fans will have the opportunity to purchase mobile tickets, scan upon entry with their phone, manage their accounts directly from their mobile devices, and seamlessly transfer or exchange tickets for events they cannot attend. Ticketing will be integrated into the Toledo Athletics website, which is powered by SIDEARM Sports Inc.
"The Paciolan team is excited to work with The University of Toledo to reach a new standard of excellence," said Paciolan CEO and President Kim Damron. "We look forward to partnering with Toledo to elevate their customer experience through a variety of technologies and services."
Paciolan, a Learfield IMG College Solution, has nearly 40 years of experience serving more than 500 live entertainment organizations. Paciolan enables the sale of more than 120 million tickets per year by powering more than 120 college athletic programs, more than 100 professional sports and arena organizations, 75 performing arts venues, and several regional ticketing partners that serve hundreds of venues.
For more information or questions, contact the Athletic Ticket Office at 419.530.GOLD (4653).