UT launches sports production program: ESPN3 to carry live Rocket events produced by University
---
The University of Toledo today announced the launch of a production operation — part of the Mid-American Conference's 13-year agreement with ESPN — that will provide significant exposure and learning opportunities for UT students. The initiative will feature a minimum of 35 Rocket athletic events that will be carried live on ESPN3.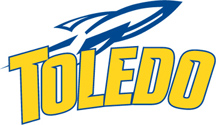 UT's broadcast productions will supplement the numerous football, men's basketball and women's basketball games already being produced and carried on ESPN and other national and regional networks.
The University will produce home games in men's basketball, women's basketball, women's volleyball, baseball and other sports. The multi-camera high-definition game productions will feature full ESPN-branded graphics, replay and two-person commentator crews. A mobile production unit is being equipped that will house state-of-the-art video and audio equipment.
"We are very excited about this great opportunity to bring so many Rocket athletic events to a national audience on ESPN3," said UT Vice President and Athletic Director Mike O'Brien. "Not only is this an opportunity to create more exposure for our athletic teams, it will also be a great recruiting tool for our athletic programs and for our University in general. Rocket alumni, fans and parents of our student-athletes will have the opportunity to watch live action of UT sports events from almost anywhere in the country. Students in our Department of Communication will have an excellent opportunity to gain valuable work experience producing our games, which could lead to exciting new careers in their chosen fields. We are truly entering a new age in the branding and marketing of our athletic program and our University as a whole."
The productions will be operated primarily by UT students who are taking courses in television production in the Department of Communication. Staff positions have been added in the Department of Communication to assist with the productions and manage the student staff.
"The opportunity for UT communication students to work on programming that will appear nationally on ESPN3 offers them real-world experience, which is critical to building a sustainable career," said Debra Davis, dean of the College of Communication and the Arts. "They will also learn the demands and rewards of their field. When learning through doing, learning experientially, the students build an understanding of how to respond to crises or unexpected news, and the follow-up action needed to complete the task.
"Students participating in our broadcasts will be prepared for the marketplace after graduation. Producing these sports programs, along with the opportunity to participate in our award-winning UT:10 News, will provide valuable on-the-job experience and will expand their professional networks. I am very excited that College of Communication and the Arts students are being offered this great chance to learn through professional practice."
In addition to live event production, Toledo students will produce pregame, halftime and postgame content, as well as feature pieces, in-game and postgame highlight packages, interviews, and coaches shows. These events will be available to more than 99 million households and by an additional 21 million U.S.-based college students and military personnel.
ESPN3 is ESPN's live multi-screen sports network, a destination that delivers thousands of exclusive sports events annually. It is accessible online at WatchESPN.com, on smartphones and tablets via the WatchESPN app, and streamed on televisions through Amazon Fire TV and Fire TV Stick, Apple TV, Chromecast, Roku, Xbox 360 and Xbox One.
The network is available to more than 99 million homes at no additional cost to fans who receive their high-speed Internet connection or video subscription from an affiliated service provider. The network also is available at no cost to approximately 21 million U.S. college students and U.S.-based military personnel via computers, smartphones and tablets connected to on-campus educational and on-base military broadband and Wi-Fi networks.