UT to host fifth annual African-American Festival on Scott Park Campus
---
For the second consecutive year, The University of Toledo will welcome the community to the Scott Park Campus for the fifth annual African-American Fest on Saturday, July 11, and Sunday, July 12.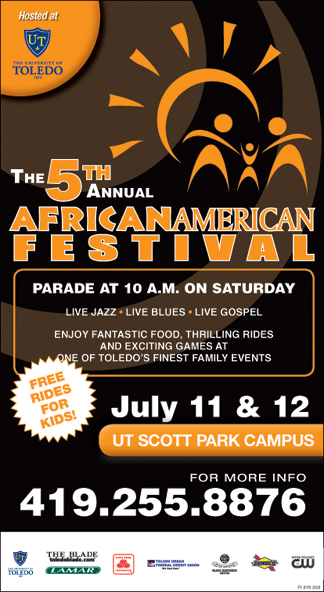 The community-driven event will feature music, a parade, food vendors, rides and a health fair.
"The decision to move the event to UT's Scott Park Campus last year was incredibly well-received by the community," said Suzette Cowell, CEO of Toledo Urban Federal Credit Union, the event organizer. "We are thrilled to return to Scott Park this year and anticipate our most successful event yet."
"The African-American Festival has grown into one of the city of Toledo's signature events, and The University of Toledo is proud to welcome it back to campus," said Lawrence J. Burns, vice president for external affairs and interim vice president for equity and diversity. "It's a celebration of the life and culture that makes our community such a vibrant place to live and work. I encourage everyone in our UT community to plan to come out and enjoy the fun."
Many of the African-American Festival's performers have been finalized.
Scheduled to take the stage Saturday will be:
• Ramona Collins;
• Joyce Cooling; and
• The Manhattans.
The lineup for Sunday will feature:
• The Friendship Baptist Church Choir;
• First Creation;
• Nick Colionne;
• Alexander Zonjic; and
• The Rance Allen Group.
Cost each day is $6, $5 for seniors, and free for children 2 and younger.
"As the festival grows each year, so does our ability to attract top talent," Cowell said. "We anticipate this will be a lineup that you won't want to miss."
For more information on the festival, call 419.255.8876.
RSVP on Facebook