UToledo Names New Baseball Coach
---
Rob Reinstetle has been named the head baseball coach at The University of Toledo, Vice President and Athletic Director Mike O'Brien announced today.
A Columbus, Ohio, native, Reinstetle is the 12th coach in program history and comes to Toledo following a four-year stint as an assistant coach at Western Kentucky University.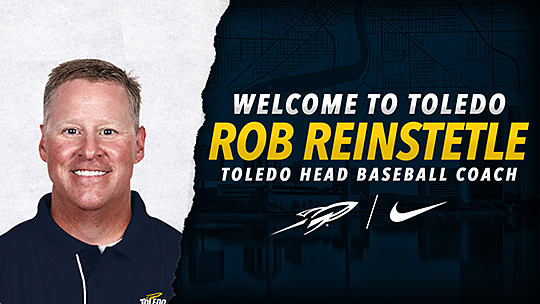 "We're very excited to have Rob Reinstetle take over as the leader of our baseball program," O'Brien said. "Rob has played a key role in the success of each program he's been a part of through both his coaching and recruiting. Rob is a detail-oriented individual, and I am confident he will take our program in a new direction and be an outstanding mentor for our student-athletes."
Prior to arriving at WKU, Reinstetle served on coaching staffs at Ole Miss (2007 to 2009), South Alabama (2006), College of Charleston (2004 to 2005), Northwest Florida State College (2003), Cincinnati (2002) and Ohio Dominican (2000 to 2001). Before beginning his coaching career at ODU in 2001, Reinstetle served as an associate professional scout for the Los Angeles Dodgers.
"It has always been a dream of mine to be a head coach at the D-1 level," said Reinstetle, who has coached 24 All-Americans as an assistant coach. "I am incredibly honored that Mike O'Brien and [Deputy Athletic Director] Dave Nottke are giving me this opportunity. I was impressed by the administrative support our program will receive, and I'm confident Toledo is a place where we can win championships. We want to be excellent in everything we do on the field and in the classroom."
Reinstetle said he is eager to get started and return to the Buckeye State after spending the last four years with the Hilltoppers.
"Having grown up in Ohio, I am familiar with the Mid-American Conference and know what it takes to be successful," Reinstetle said. "My goal is to put some passion and energy into the program by recruiting at a high level and creating a culture where winning is expected. We want to build a program that gives the players a first-class student-athlete experience. I'm really excited to get started."
In 12 seasons as a college assistant, Reinstetle was part of programs that compiled records of 449-313-1, won four conference championships, advanced to six NCAA Regionals, as well as a pair of Super Regionals. Seventy-nine players coached by Reinstetle have been selected in the Major League Baseball Draft, highlighted by major leaguers Zack Cozart, David Freese, Brett Gardner, Lance Lynn and Drew Pomeranz.
This past season, Reinstetle helped mentor Jake Sanford, who earned All-America honors after becoming Conference USA's first regular-season Triple Crown winner (.402 average, 22 HR, 65 RBI) and a third-round draft pick by the New York Yankees in this year's MLB draft.
From 2007 to 2009, Reinstetle served as the recruiting coordinator at Ole Miss, where he helped sign four top 20 recruiting classes and aided the Rebels in two Super Regional appearances. In his last season, Ole Miss fell one game shy of the College World Series and had five everyday starters finish the season with a batting average of .335 or higher.
He left Ole Miss following the 2009 season to work in the private sector for his family-owned business in Powell, Ohio. During this time, he also provided personal baseball instruction for 6- to 18-year-olds.
Reinstetle also helped attract a top 50 recruiting class as the recruiting coordinator at South Alabama in 2006. The Jaguars set single-season school records in hits (707) and batting average (.326), in addition to posting a 39-21 record and making an NCAA Regional appearance.
A 1999 graduate of Ohio Dominican University, Reinstetle and his wife, Christy, are the parents of one son, Cale (9). He also has two stepdaughters, Brittany (24) and McKenzie (18).