Rockets Start GoFundMe Page to Assist Family of Player; Scholarship Fund to be Established
---
A GoFundMe page has been created to assist the family of University of Toledo defensive lineman Jahneil Douglas, who was shot and killed Tuesday night in Toledo. The fund will help pay for funeral costs, as well as assist Douglas' children.
The page was started by former teammate Mitchell Guadagni, the Rockets' starting quarterback the past two seasons.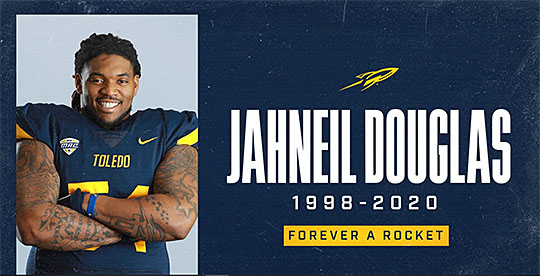 "We all loved Jahneil and we loved his family," Guadagni said. "[Former Rocket teammate] Nate Childress and I were talking about Jahneil and decided we wanted to do something to help his family and his beautiful children. Jahneil will always be a Rocket, and he will always be in our hearts."
Toledo Head Football Coach Jason Candle said he is proud of the way the players have come together to help their teammate's family.
"Yesterday was a terrible day for the Rocket football family," Candle said. "We are still reeling from the loss of JD. Coming together as a family is important during these trying times, and I am happy to see our Rockets step up like this. JD's impact will be forever felt on Toledo football."
UToledo Vice President and Athletic Director Mike O'Brien added that a scholarship fund in Douglas' name will be forthcoming.
"This has been such a tragic loss for Jahneil's family and for our football program," O'Brien said. "Jahneil was a fine young man and a great Rocket, so we felt it was only fitting to create some kind of lasting legacy to honor his memory."
Access the GoFundMe page for Douglas' family.