Rockets to host 'Celebration of Champions' July 18
---
The University of Toledo Athletic Department is hosting a special "Celebration of Champions" to honor the achievements of the 2011-12 season Wednesday, July 18, from 6 to 8 p.m. in the Savage Arena west lobby and balcony.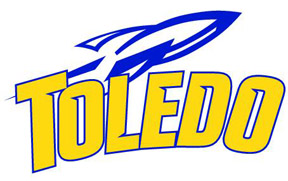 All Rocket fans and supporters are invited to attend. Complimentary hamburgers, hot dogs and soft drinks will be served.
Rocket fans are invited to RSVP by calling 419.530.5316 or by emailing athleticexternalaffairs@utoledo.edu.
Some of the highlights from the 2011-12 season included:
• A 9-4 season in football, including a victory over Air Force in the Military Bowl;
• The first Jacoby Trophy — awarded to the top women's athletic program in the Mid-American Conference — in school history;
• MAC championships and MAC coach of the year honors in women's cross country, women's soccer and women's swimming;
• A MAC West Division title in baseball;
• A 24-10 record in women's basketball, along with an Elite Eight appearance in the WNIT;
• A 19-17 record in men's basketball, which represents a plus-15 improvement in wins, the second-best turnaround in the nation; and
• A record 3.266 department grade point average.