Graduate student to discuss invasive plants July 13 at Lake Erie Center
---
UT graduate student Sara Guiher will deliver a talk titled "Neighborhood Watch: Learn to Identify and Manage Invasive Plants in Your Yard" Wednesday, July 13, at 7 p.m. at the Lake Erie Center, 6200 Bayshore Road, Oregon.
The free event is part of the UT Lake Erie Center's Naturalist Series, which welcomes a variety of speakers from different areas of expertise to share their insights.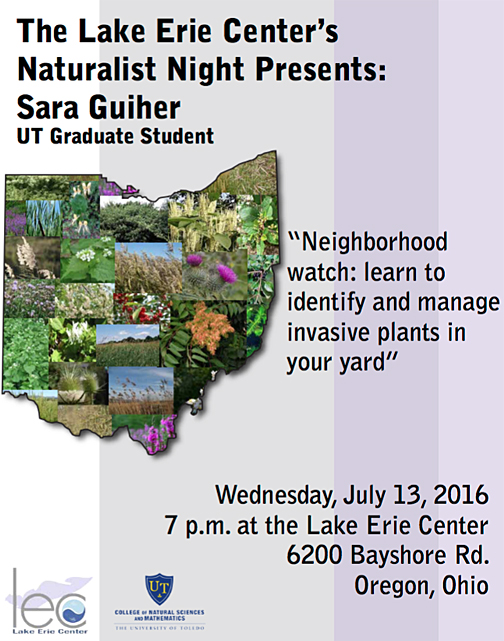 Guiher's talk connects to a larger project she began last year with Dr. Jonathan Bossenbroek, UT professor of ecology, and Dr. Todd Crail, UT lecturer in the Department of Environmental Sciences. In partnership with the Green Ribbon Initiative, the three worked to compile a list of invasive plant species prevalent in the Oak Openings Region.
Invasive plants can exist anywhere. Even home gardens can act as habitats for invasive species, and Guiher hopes to inform attendees of the various types of invasive species to look for in their yards.
Garlic mustard, honeysuckle, and landscaping plants such as Callery pear and Japanese barberry are among the species that can be prevalent and possibly invasive in home gardens. Guiher said she will not only highlight which plants to look out for, but also offer some native alternatives for those plants and how homeowners can move forward in their gardens.
"My goal is to introduce local residents to invasive plants that are common in the area and likely already present on their properties, along with some effective management strategies. Controlling invasives in our yards can have a positive impact in our neighborhoods, as well as on native plant and animal communities," Guiher said.
"I'm excited to provide examples of native plants that can be used in home landscapes," she added. "Following the talk, we plan to take a short walk to get some experience identifying invasive plants in the field."
To learn more about the Lake Erie Center and its events, click here.