The Lonely Friends take Local Band Challenge to perform at Music Fest
---
The Lonely Friends, a band formed in 2011 for a high school fundraiser, won the UT Local Band Challenge to perform at The University of Toledo's Music Fest 2013.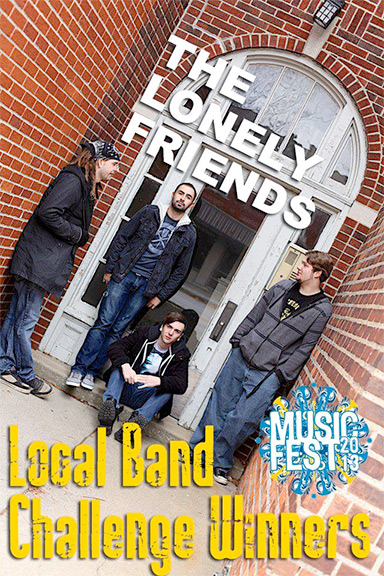 The band, described as "old-school rock with influences of blues and some metal to keep it fresh," was selected from performance videos uploaded to the Music Fest Facebook page July 1-7. Community members voted the next week for the local band they wanted to see perform at Music Fest Friday, Sept. 13, and the majority of votes – more than 8,000 – came for The Lonely Friends.
"I was surprised that we won," said Travis Geiman, the band's guitarist. "We kept posting the competition to Facebook throughout the week and were in the top 10, but we didn't think it would be us. Everyone is happy that we won."
The band came up with its name from the game Rock Band. The Lonely Friends was processed one time by the name generator and band mates thought it was kind of funny and have stuck with it ever since.
In addition to Geiman, The Lonely Friends features Michael Barlos on vocals, Anthony Kitts on bass and Nick Duszynski on drums.
The quartet formed in 2011 when Maumee High School needed a group to play for a marching band fundraiser. Alumni of the school, Geiman, Kitts and Duszynski previously had been in the marching band and Barlos in choir, so they gave it a shot, thinking at the time it was temporary.
They are in the process of mixing their first album, which will be released this summer, Geiman said. The band also has the first few songs finished for a second album.
The Lonely Friends has performed one or two shows per week since the summer started. Music Fest 2013 will be the biggest show they play to date.
"I hope everyone enjoys Music Fest, and hopefully they take something away from the music we play and can relate to it in some way," Geiman said.
For more information about Music Fest, visit utoledo.edu/musicfest, and for more about The Lonely Friends, visit facebook.com/TheLonelyFriends.