From the Heart Celebrity Waiter Event and Raffle
---
The ninth annual From the Heart Celebrity Waiter Event will take place Monday, Aug. 19, at Loma Linda Restaurant, 10400 Airport Highway in Swanton.
The event supports the Mundt Cardiology Endowment Fund at The University of Toledo Medical Center. This fund, established in 2008 by the Mundt family, provides support for innovative programs in advanced cardiac care at the hospital.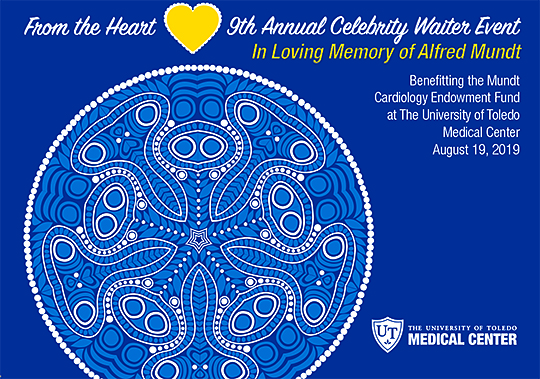 Raffle tickets will be sold in advance of the event in UTMC's Four Seasons Bistro from 11 a.m. to 2 p.m. and 4:30 to 6:30 p.m. on:
• Tuesday, July 23;
• Wednesday, July 31;
• Thursday, Aug, 8; and
• Friday, Aug. 16.
Prizes will be drawn Monday, Aug. 19, and include:
• Use of the UToledo Department of Medicine suite (up to 20 guests) at a Rockets' basketball game, a $1,200 value.
• A $300 Loma Linda Restaurant gift card.
• Three $100 Ventura's Mexican Restaurant gift cards.
• Two tickets to a Rockets' football game in the UTMC suite, a $300 value.
Contact jennifer.schaefer@utoledo.edu for more information about the From the Heart event.