Five softball players earn Academic All-MAC distinction
---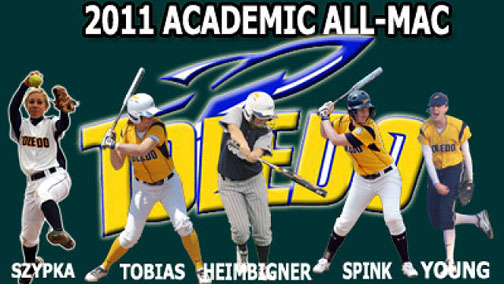 Five members of The University of Toledo softball team have been recognized for their achievements on and off the field by earning Academic All-Mid-American Conference honors for the 2010-11 season.
Senior Shana Szypka and sophomore Lindsey Tobias represented the Rockets on the All-MAC team, while sophomore Becki Heimbigner, junior Jillian Spink and senior Whitney Young earned Academic Honorable Mention accolades.
Szypka was named to the team after earning a cumulative 4.00 GPA over her Toledo career. The pitcher appeared in 27 games and averaged three strikeouts per game.
Tobias also was named Second-Team All-MAC after leading the team in nearly every offensive category in 2011. She finished the season with a .331 batting average and 48 total hits, including seven home runs, 29 RBI, two triples and six doubles. She tallied 22 runs scored, 79 total bases and a .545 slugging percentage.
Heimbigner was one of two Rocket players, along with Tobias, who started all 51 games. She hit .235 on the season, tallying two home runs and 13 RBI, with a .975 fielding percentage.
Spink recorded a .228 batting average on the season, posting five home runs and 20 RBI, second most on the team in both categories. She also had a .982 fielding percentage.
Young started 24 games for the Rockets, appearing in 33 total, and struck out 33 batters on the season.
To qualify for Academic All-MAC honors, a student-athlete must have a minimum of 3.20 cumulative GPA and have participated in at least 50 percent of the contests for that particular sport. Award recipients are voted on by the league's faculty athletic representatives. First-year students and junior college transfers in their first year of residence are not eligible for the award. Consideration is only given to outstanding academic and athletic accomplishments from the current season.