Ryan White Program to share local mother's story during July 25 forum
---
The Ryan White Program at The University of Toledo Medical Center is encouraging families to openly discuss HIV/AIDS prevention and care.
The program's support group, Young, Gay and Empowered, is sponsoring a free, public forum titled "A Mother's Story" Monday, July 25, at 6 p.m. at St. Paul's United Methodist Church, 1201 Madison Ave.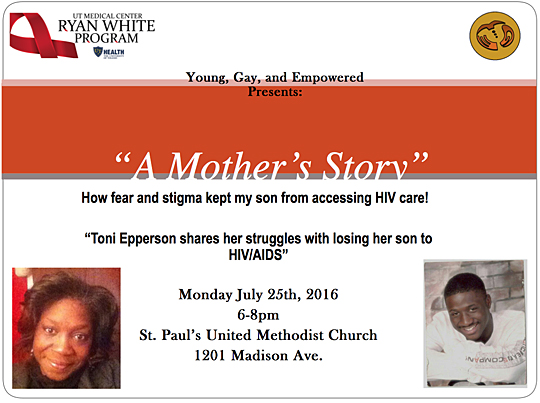 According to the Lucas County Health Department, the number of HIV/AIDS infections among young people ages 15 to 24 has significantly and consistently increased during the last eight years. This age group accounted for 42 percent of the HIV/AIDS cases in 2014.
"The largest growing demographic for new HIV infections is young African-American men and men of all races and ethnicities who have sex with other men," said Richard Meeker, manager of fundraising and special projects. "We need to encourage these young men to talk to their families and seek the care they need to live healthier lives."
Kennyetta White, minority outreach coordinator, agreed saying many young people face social stigmas that keep them from seeking help.
"It is our goal to reach beyond these stigmas to encourage young men to get tested and if they are diagnosed with HIV, link them to support and health services and retain them in the support program long term," she said.
Toledoan Toni Epperson will serve as keynote speaker. She will share the story of her son, David, who kept his HIV diagnosis a secret until it was too late.
"We had a close relationship, and I thought he would tell me anything," she said. "What I later learned was he was too afraid to come forward. He thought he would be shamed for his diagnosis and wanted to protect me from that. My son's secret killed him."
Epperson said she wants to tell young men that their lives matter and they don't need to die needlessly.
"There is help out there," she said. "I want them to know they are not alone and that they do not have to go through what David went through. I want them to know I care."