Staff members organizing Aug. 4 bowling fundraiser for Sunshine Communities
---
Get ready to have fun and help those in need at the first bowling fundraiser organized by three UT staff members for Sunshine Communities.
George Hayes Jr., electrician journeyman, along with UT Print Shop staff members Tricia Dorring and Keith Henson, both office machine operators, are organizing a bowling event to benefit Sunshine Communities.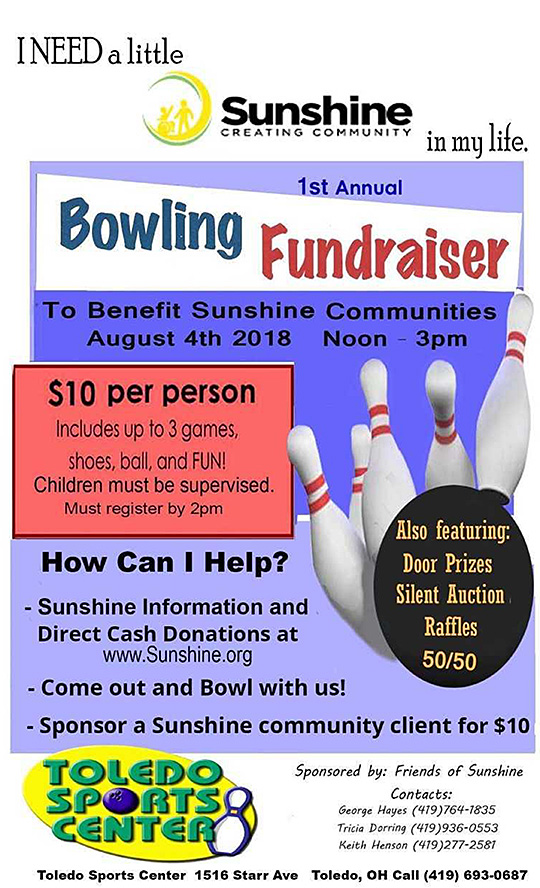 "I Need a Little Sunshine in My Life" will take place Saturday, Aug. 4, from noon to 3 p.m. at the Toledo Sports Center, located at 1516 Starr Ave.
Bowling will cost $10 for three games, shoes and a bowling ball. There will be door prizes, a silent auction, raffles and a 50/50 featured as well.
"We encourage everyone to come out and have a good time while supporting Sunshine Communities," Hayes said. "Brighten up your day, meet some new friends, and help out this local organization that makes a difference in our community."
Guests also can show their support by providing silent auction items, monetary donations or gift certificates/cards, or by sponsoring a client from Sunshine Communities to bowl.
Sunshine Communities is a local organization supporting men, women and children with developmental disabilities by offering residential, vocational and clinical support. Its mission is to create a community among people with developmental disabilities, their families, friends, and staff by offering services that enable individuals to build life-enhancing relationships through mutual caring and growth.
Located in Maumee, Sunshine Communities offers clients numerous features, including a pool and gym, multisensory room, and therapeutic horse riding at Sunshine Acres. The Sunshine Vocational Center has activities for both residential and nonresidential clients designed to enhance social and personal growth; activities include book clubs, crafts, gardening and more.
Sunshine Communities also supports workers with developmental disabilities when searching for and retaining jobs. The organization helps individuals find jobs through Sunshine-employer partnerships and at more than two dozen of its properties, including a coffee shop and art studio.
"No matter who I've talked to about the event, Sunshine touches their lives in one way or another," Henson said. "It may be taking care of a family member, friend or other individuals in their community who are affected by mental or physical disabilities."
"Our goals for this fundraiser are to help this organization to continue its mission to build a nurturing environment for individuals with disabilities," Dorring said. "We would like to have the Sunshine Community clients participate in our event and to have fun and build new friendships. Another goal is to have the costs for each Sunshine Communities client who would like to bowl covered."
"We hope this event provides community members with the chance to learn more about Sunshine Communities and what its staff members do for its clients, as well as what clients may go through," Henson added.
Registration will be held on site the day of the event and must be completed by 2 p.m.
For those who cannot attend but still wish to contribute, donations can be made at mightycause.com/story/xzuuwe.
For more information, contact Hayes at george.hayes@utoledo.edu or 419.746.1835.