Rocket women golfers rank fifth nationally in GPA among Division I programs
---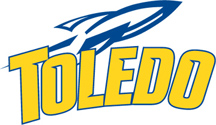 The University of Toledo's women's golf program ranked fifth academically among NCAA Division I women's golf programs and 11th among all collegiate programs nationally during the 2009-10 school year.
The Rockets posted a 3.618 cumulative grade-point average for the year. The University of Indianapolis (NCAA Division II) topping all programs with a 3.752 GPA. Indiana State topped all Division I schools with a 3.692 mark.
"This in as unbelievable honor for our program," Toledo Head Coach Nicole Hollingsworth said. "I am extremely proud of our team for getting it down both in the classroom and on the golf course."
Earlier this summer, four Rockets were named to the 2009-10 National Golf Coaches Association All-American Scholar Team. Senior Marguerite Johnson, junior Emily Hardcastle, junior Michelle Hui and sophomore Kaitlyn Van Gunten were each honored after posting a cumulative GPA of 3.50 or higher competing in at least 50 percent of the Rockets' competitions.
Below is a listing of the Top 25 programs in the country:
1. University of Indianapolis 3.752
2. Drury University 3.716
3. Gustavus Adolphus College 3.714
4. Indiana State University 3.692
5. Grand Canyon University 3.655
6. Seton Hill University 3.650
7. University of Memphis 3.642
8. Missouri State University 3.636
9. Cameron University 3.620
Cleveland State University 3.620
11. The University of Toledo 3.618
12. Concordia University – St. Paul 3.613
13. University of New Mexico 3.589
Wichita State University 3.589
15. Weber State University 3.583
16. Augustana College 3.575
Arizona State University 3.575
18. Ohio University 3.571
19. University at Albany, SUNY 3.560
20. University of Arkansas 3.554
21. Ball State University 3.549
22. University of California Santa Cruz 3.548
23. Stanford University 3.535
24. Charleston Southern 3.525
Northwestern University 3.525
University of Oklahoma 3.525
Click to access the login or register cheese