U.S. News names UTMC as area's best hospital
---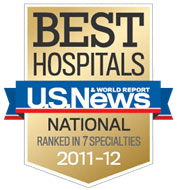 U.S. News and World Report recognized The University of Toledo Medical Center as the best hospital in the Toledo metro area for 2011-12.
The magazine ranked UTMC as a high-performer in seven clinical specialties, the most of any institution in the area.
"It is clear that U.S. News understands what the Toledo community already knows: The University of Toledo Medical Center offers patients superior care, a great experience and a higher degree of healing," said Dr. Scott Scarborough, senior vice president and executive director of UTMC.
"Caring for patients is a team effort, and this is an accomplishment that the entire team should be proud of," Scarborough said.
U.S. News listed UTMC has a high-performer in:
• Ear, Nose and Throat;
• Geriatrics;
• Kidney Disorders;
• Neurology and Neurosurgery;
• Orthopedics;
• Pulmonology; and
• Urology.
"Hospitals across the nation look to America's top tier academic health centers to set the standards for health care and Toledo is no different. It is the blend of educational programs, innovative research and patient-centered clinical care that sets the stage for this recognition," said Dr. Jeffrey P. Gold, chancellor, executive vice president for biosciences and health affairs, and dean of the College of Medicine and Life Sciences.
"This is one more example of the incredible momentum that our UT team has created. I want to thank and congratulate everyone who works so hard to provide this quality of health care."