Former Toledo Women's Basketball Player Inks Pro Contract in Spain
---
Former Toledo women's basketball player Sara Rokkanen has signed a professional contract to play for Embutidos Pajariel Bembibre in Spain.
Rokkanen becomes the ninth Rocket to play professionally overseas under three-time Mid-American Conference Coach of the Year Tricia Cullop, joining Melissa Goodall (Italy and Spain), Naama Shafir (Israel), Andola Dortch (Belarus), Inma Zanoguera (Italy), Brenae Harris (Spain), Janice Monakana (Great Britain), Jay-Ann Bravo-Harriott (Spain and Great Britain), and most recently Mariella Santucci (Italy) on that list.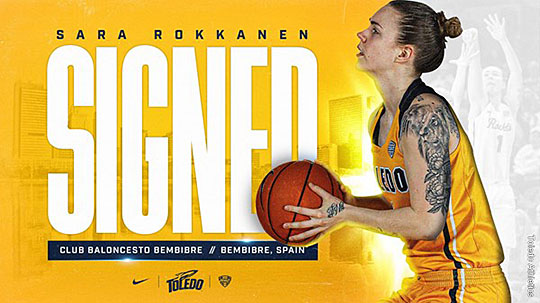 In addition, former Rockets Kaayla McIntyre, Janelle Reed-Lewis, Dortch and Harris currently play for the Toledo Threat, which is part of the women's professional basketball organization.
"We are all thrilled for Sara as her dream of becoming a professional basketball player becomes a reality," Cullop said. "We look forward to cheering her on as she begins the next chapter of her career."
Embutidos Pajariel Bembibre plays in Liga Femenina de Baloncesto, the highest level of league competition for women's basketball in Spain.
Rokkanen played her best basketball as a Rocket during the 2020 MAC Tournament, contributing 12.0 points and 5.0 rebounds in 35.5 minutes. She scored in double figures in both post-season contests and shot an impressive 47.1% (8 of 17) from the field, helping Toledo advance to the tourney semifinals.
For the season, Rokkanen finished third on the squad in three-point field-goals made (30) and fourth in three-point field-goal percentage (.309, 30 of 97, minimum 25 attempts). The Helsinki, Finland, native knocked down at least two shots from beyond the arc on eight occasions in 2019-20, including a season-high three against archrival Bowling Green Jan. 18.
During her four seasons as a Rocket, Rokkanen scored in double figures on 16 occasions, including a career-best 15 points against the Falcons. A three-point specialist, she also drained at least three triples on 12 occasions at Toledo, including a collegiate-best four five times.