Five Toledo Women's Golfers Named to All-American Scholar Team
---
The Toledo women's golf team placed five individuals on the 2019-20 Women's Golf Coaches Association All-American Scholar Team.
Seniors Donchanok Toburint and Saranlak Tumfong were joined by freshmen Amelia Lee, Kathryn Roth and Claudia Sampson on the squad.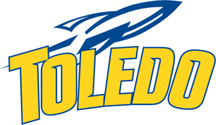 The criteria for selection to the All-American Scholar Team are some of the most stringent in all college athletics. The minimum cumulative GPA is 3.50, and student-athletes must have competed in at least 50% (Division I) or 66% (Division II and III) of their college's regularly scheduled competitive rounds during the year.
"The ladies continued to show their determination and dedication to their academics despite our circumstances in the spring semester," Head Coach Jenny Coluccio said. "They have also elevated a culture of academic excellence within our program and displayed a testament to our academic staff for creating a culture of support for our program."
Click to access the login or register cheese