Five Golfers Recognized for GPA
---
The Toledo women's golf team placed five individuals on the 2018-19 Women's Golf Coaches Association All-American Scholar Team.
Seniors Natcha Daengpiem, Pimchanok Kawil and Pinyada Kuvanun were joined by juniors Donchanok Toburint and Saranlak Tumfong on the squad.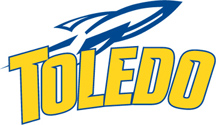 The criteria for selection to the All-American Scholar Team are some of the most stringent of all college athletics. The minimum cumulative GPA is 3.50, and student-athletes must have competed in at least 50 percent (Division I) or 66 percent (Division II and III) of the college's regularly scheduled competitive rounds during the year.
"We are very proud of the players' efforts throughout the year and dedication to a culture of academic success within the program," Head Coach Jenny Coluccio said. "I also want to thank our academic support staff and Stacy Bowers [in Academic Athletic Advising] for continuing to support our players in their academic pursuits."
The five Rockets selected to the squad each possess a grade-point average of 3.5 or higher. Daengpiem leads Toledo with a 3.907 GPA followed by Tumfong (3.804), Kawil (3.703), Kuvanun (3.621) and Toburint (3.575).
Click to access the login or register cheese