Fraternity members cycling across country to stop at UT
---
On Tuesday, Aug. 3, a team of cyclists participating in the Journey of Hope, presented by KRG Capital, will arrive in Toledo as part of a nine-week, 4,000-mile cycling event across the country to raise funds and awareness for people with disabilities.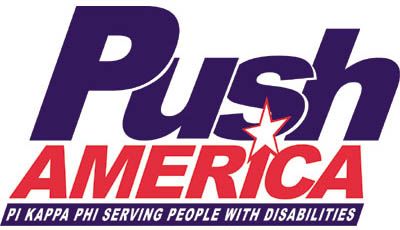 Team members will arrive about 11:30 a.m. at The University of Toledo's Centennial Mall, where they will be greeted by UT Vice Chancellor Dr. Patricia Metting, Toledo Mayor Mike Bell, Toledo City Councilman Adam Martinez and other local dignitaries.
They will have lunch at noon in the Student Union with faculty, staff, and city and student leaders.
At 1:30 p.m. in the UT Student Recreation Center, the team will visit with residents of the Sunshine Children's Home.
The cyclists also will present "Kids on the Block," which is disability awareness raising puppet show, at UT's Apple Tree Nursery School at 2:45 p.m.
UT students Paul Webb and Nick Jones will lead the team of cyclists into Toledo. These two bicyclists jointly raised more than $10,000 for people with disabilities.
Webb is a sophomore studying broadcast journalism and hopes to become an anchor/reporter. He is vice president of Pi Kappa Phi.
Jones is a sophomore studying economics. He works at UT's Student Recreation Center, where he teaches rock climbing.
Journey of Hope is a program of Push America, the national philanthropy of Pi Kappa Phi Fraternity, which raises funds and awareness for people with disabilities. The Journey of Hope team consists of men from Pi Kappa Phi chapters across the country. The team will cycle an average of 75 miles per day, from San Francisco and Seattle to Washington, D.C., where they are scheduled to arrive Saturday, Aug. 14.
At stops across the country, the teams will distribute grants directly to assist organizations that serve people with disabilities. The cyclists also will visit new friends from these organizations.
Push America has contributed greatly in the Toledo area. In the 1980s, Pi Kappa Phi students raised money to build adaptive play/therapeutic environments at Sunshine Children's Home and the Anne Grady Center. The units cost $5,000 to $10,000 each.
In the 1990s, the organization returned to Sunshine Children's Home to build a boardwalk to take residents and visitors though the wooded area behind the home and back to the stream.
In 2006, a group of 65 Pi Kappa Phi members donated a weekend to build accessible walkways through Sylvania Township's Camp Miakonda, which is run by the local Boy Scout Council. The college students were from five states and received a $5,000 grant for the materials from Push America. In 2008, Pi Kapps returned with nearly 100 members to update the accessibility work, including the construction of a ramp to the council ring stage, an area which was previously inaccessible.
Push America was founded in 1977 with the hope of committing its members to enhance the lives of people with disabilities. With the combined efforts of sponsors and individual team members, this year's Journey of Hope has raised more than $500,000 on behalf of people with disabilities. Push America and Pi Kappa Phi have raised more than $13 million to date and continue to be on the cutting edge of the disability movement.
For more information about this event or more on Push America's summer programs, go to www.pushamerica.org.