Volleyball team recognized 11th straight season for academic performance
---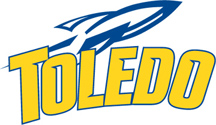 The University of Toledo women's volleyball program has received the American Volleyball Coaches Association Team Academic Award after posting a 3.512 grade-point average during the 2010-11 school year. It is the 11th straight season the Rockets have received the prestigious award.
Initiated in the 1992-93 academic year, the award honors colleges that display excellence in the classroom by maintaining at least a 3.30 cumulative team GPA during the entire school year. Toledo was one of 92 NCAA Division I institutions to be honored.
The women's volleyball program's latest Academic Progress Rate score of 991 for the four-year period from 2006-07 through 2009-10 represents its third highest mark since the NCAA began tracking academic progress in 2004-05. It also represents the Rockets' sixth straight year above the NCAA "cut point" of 925.
Toledo will open its 2011 campaign under third-year Head Coach Greg Smith when it hosts Wright State, Niagara and Oakland as part of the Blue-Gold Invitational Friday and Saturday, Aug. 26-27, in Savage Arena.
UT fans can get a sneak preview of the team at the Blue-Gold Match Friday, Aug. 19, at 7 p.m. in Savage Arena.
Click to access the login or register cheese