Rockets, Kareem Hunt featured in Sports Illustrated's College Football Preview issue
---
The Toledo Rockets football team and its star running back Kareem Hunt are featured in this week's College Football Preview edition of Sports Illustrated.


The Rockets are picked to win the Mid-American Conference and are named one of the five "teams that could get the Group of Five's 'New Year's Six' bowl bid."
While the magazine points out that Toledo faces major hurdles in contests vs. Arkansas and Iowa State, it says that "winning both would keep Toledo in the conversation heading into the MAC campaign."


A photo of Hunt, who is referred to as "one of the MAC's top rushers," is the largest on the page.
Unfortunately, the magazine's coverage had one major fumble. It says Hunt had 866 rushing yards last year (his total from his freshman season in 2013) when he in fact had 1,631.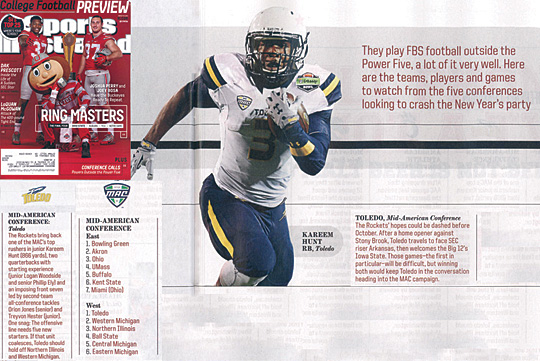 Click to access the login or register cheese