Rocket Volleyball receives national team academic award for 14th straight season
---
Toledo's volleyball program has been honored for its academic performance for the 14th straight year as it received the American Volleyball Coaches Association Team Academic Award again.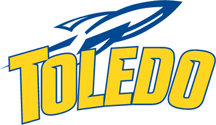 The Rocket volleyball program posted an impressive 3.499 cumulative grade point average in the spring after serving up a 3.475 GPA in the fall.
Initiated in the 1992-93 academic year, the award honors colleges that displayed excellence in the classroom by maintaining at least a 3.30 cumulative team GPA during the entire school year. Toledo was one of a record 134 NCAA Division I institutions to be honored.
Toledo will open its 2014 campaign at West Virginia's Mountaineer Invitational Friday-Saturday, Aug. 29-30. The tournament field will include 2013 NCAA Tournament participants Brigham Young and Indiana University-Purdue University Indianapolis, as well as the host Mountaineers.
The Rockets open their home schedule Tuesday, Sept. 16, with a non-conference matchup against Horizon League foe Valparaiso. Three days later, UT will host Duquesne, Indiana University-Purdue University Fort Wayne and Minnesota in the Rocket Invitational Friday-Saturday, Sept. 19-20.
Click to access the login or register cheese